1/6 Sengoku Joker (Goodsmile) - NO VIP Discount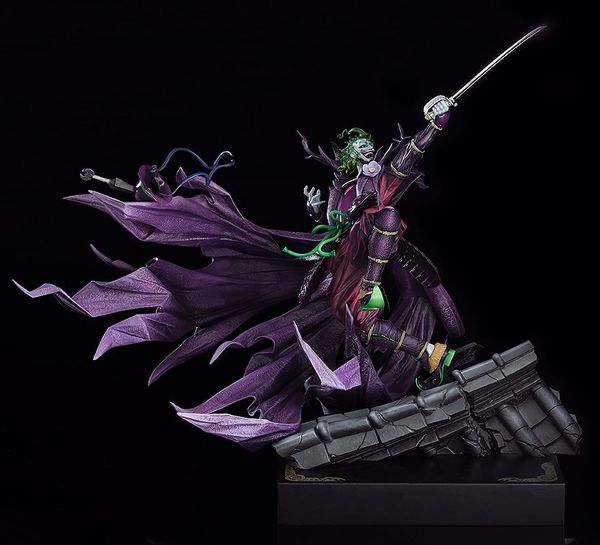 1/6 Sengoku Joker (Goodsmile) - NO VIP Discount
XM Studios is excited to present the follow up to our honored production collaboration project with Good Smile Company Inc, one of Japan's most premier collectibles brand! Designed, sculpted and produced by the talented Good Smile Team, Sengoku Joker is immortalized in amazingly detailed Cold Cast Porcelain.  Deeply honored to be part of this project, XM provides a supporting role in manufacturing assistance to help ensure this exquisite art piece is faithfully produced in immaculate quality. For a very limited period of time (orders close 20th March 2019!), XM is taking very limited quantity of pre-orders. Don't miss out on owning one of the most incredible and finely detailed Joker statues! Batman Ninja was produced at a limited edition size of only 270 worldwide!
Sengoku Joker Description
The insane, evil villain: Joker.
From the animated film "Batman Ninja" comes a 1/6th scale statue of Joker. The statue is based on an original art piece by the series' character designer, Takashi Okazaki, and will be made in a super limited run worldwide. As a testament to how rare this piece may be, the previous companion piece Batman Ninja was limited to only 270 worldwide!
His unbalanced pose holding his sword has been dynamically recreated. The texture of his armor has been carefully sculpted using real armor as a reference. The hem of his flapping cape has also been textured in detail for an impressive appearance even from close-up.
The base of the figure is designed to look like a broken roof, with Joker moving on perilous footing. This statue can be displayed with "Batman Ninja: TAKASHI OKAZAKI Ver." to recreate a scene of the pair facing off.
Sengoku Joker: TAKASHI OKAZAKI Ver. is a high-quality art piece, and will be made super limited worldwide. Each product will be engraved with a unique serial number. (Serial numbers will be distributed at random. You cannot select which number you will receive.)
Product Name
Sengoku Joker: TAKASHI OKAZAKI Ver. 

Series: Batman Ninja

Manufacturer: Good Smile Company

Release Date: Q4 2019

Specifications: Painted 1/6th scale polystone, polyurethane & PVC product with stand included. Approximately 450mm in height. Approximately 500mm in width.

Sculptor: Takayuki Higashi

Paintwork: Kenji Ando

Manufacturing Assistance: XM Studios
Please note that images shown may differ from the final product.
Paintwork is done partially by hand and therefore final products may vary.
Batman and all related characters and elements are trademarks of and © DC Comics. © Warner Bros. Japan LLC