Gaming Legends : 1/4 Devil May Cry – Dante (Sold Out)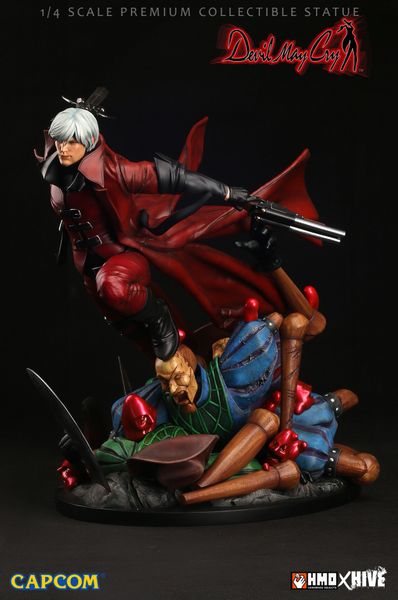 Gaming Legends : 1/4 Devil May Cry – Dante (Sold Out)
H.M.O collectibles with the collaboration of the highly talented Studio HIVE is proud to present DANTE from CAPCOM's Devil May Cry series.
We are very excited to add this to our Gaming Legends line along side the other legends of video games that has shaped the entertainment world we live in today .
Dante will be depicted in his original iconic costume from the pilot series. He will come with an action pose and all the bells and whistles of a premium quality collectible statue.
Dante , the main protagonist of the Devil May Cry series. He is the second son of the Demon, Sparda with his mother being the human Eva, and the younger twin brother of Vergil. With his Silver hair and his Icy-blue eyes , Dante is a paranormal mercenary, private investigator, and vigilante Devil Hunter dedicated to exterminating evil demons and other malevolent supernatural forces; a mission he follows in pursuit of those that killed his mother and corrupted his brother..
Dashing forward after his battle with the Marionettes, Dante does not skip a heart beat in pursuit of his destiny , this piece embodies everything that is Dante!, from the accurate representation of the marionettes scale and details to his posture and the flow of his iconic jacket. We took extra care and attention to the details when producing this masterful piece of art.
By utilising a special paint application, the Orbs that is extracted from the defeated marionettes glows when the right light is used in your display case. Making the piece stand out and demands attention in your collection.
Measuring at an impressive size of 53x53x55 cm , Dante is an instant classic!
PRODUCT DETAILS:
License:
CAPCOM Japan, Sicom Amusement Co., Ltd. "SICOM" is the licensee of CAPCOM, and is a partner of H.M.O. for sale and production.
Scale:
1/4 Scale Poly-Resin Statue
Edition Size:
400
Manufacturer:
Hand Made Object Limited
Product Height:
540 mm
Product Size:
L23 inches, W23 inches, H20.5inches 
Product Weight:
45.19 pounds
Feature Material:
Crafted from cold-cast porcelain
UV Glow Paint for Orbs
Hand Crafted to Perfection
ARTISTS:
Sculpt:
Mufizal Mokhtar
Concept:
Skan Srisuwan
Paint:
James Tce
Art Direction:
HMO Design and Development Team