Batman Sanity David Finch - Smoke Version (PO) - Sold out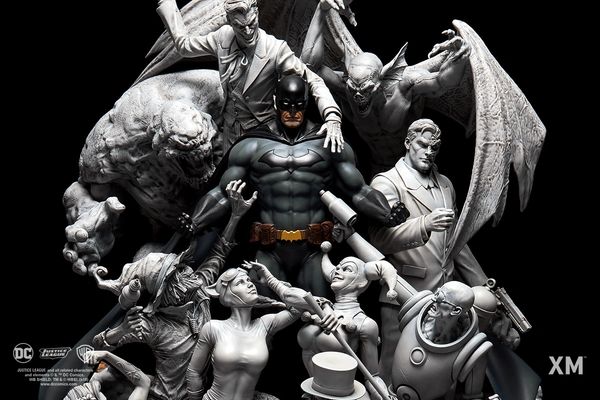 Batman Sanity David Finch - Smoke Version (PO) - Sold out
XM Studios is excited to present our first 1:6 DC EPIC DIORAMA series, Batman - Sanity by David Finch! Fan favorite Batman artist David stunned the entire XM team when he presented his concept. We expected greatness from David and he delivered above and beyond. The XM team had initially briefed David to disregard practicality and manufacturing limitations, we asked for the madnes and David delivered us sanity.  An incredible and perfectly balanced compostion of top Batman villains surrounding the Dark Knight, taunting him endlessly pushing him over the edge. But this is Batman. And his mental willpower and determination is perhaps his strongest ability. This Art Piece is a testament to the Dark Knight's iron-willed resolve to never cross the line - and hold on to his sanity even when surrounded by the darkest evil.
Sanity comes in 2 Art museum worthy paint application; a full colored version (Limited max to 388 pieces produced) and the Noir inspired smoke painted version (Limited to 108 pieces produced).
The colored version allows collectors to appreciate the varied villains in their brightest glory. Every villain carefully painted and their infamous colors and details brought to life, with the Dark Knight in the middle, holding his own.
The smoke inspired version is in reality fully painted but with various tones of black and greys. There are also more weathering and detailing work done to bring out the sculpt details hence the paint effort is equivalent to the colored version. In addition, the smoke version of Freeze does not have a clear dome helmet - this is not an oversight. Because the smoke version is a concept of Batman being surrounded by his mental imagined foes (i.e. nightmare), having a physical clear dome on floating smoke conflicts against the concept. If you are looking to purchase the full colored version, please head to https://www.xm-studios.com/products/david-finch-batman-sanity.aspx.
There is also 1 tiny but important easter egg included in both versions; many fans have feedback wanting the Riddler in the piece. The composition is currently featuring 12 characters including Batman. In order not to defray too much away from the original masterpiece art concept, we have included an element symbolizing Riddler's presence in the statue - but telling you would be spoiling the fun. You'd have to solve the riddle yourself and find out where is the clue - afterall, the Riddler doesn't show himself until his riddles are solved.
This magnificent art is immortalized in amazingly detailed 1:6 scale cold-cast porcelain. Each painstakingly handcrafted statue is individually hand-painted with the famous XM quality finish.
The Batman Sanity Epic Diorama Smoke Color Collectibles statue features:
A total of 12 fully sculpted and detailed characters in 1:6 scale - 12 characters in 1 single setting!

Smoke colored and Weathered application

Crafted from cold-cast porcelain

Limited edition : MTO but capped to maximum of only 108 worldwide!
Artists:
David finch (Concept)

All-stars sculpt team featuring; Marthin Agusta, Paul Tan, Philip Herman, Victor Hugo Sousa, Hernan Azcárate, Alejandra Jorquera, Tiago Rios

XM Studios Design and Development Team

Manufactured by: 
XM Studios
Note: Prototype shown and pending final approval, final product may differ.
Product and Box Dimensions
​
Product size : 40 cm L X 52 cm B X 64 cm H (estimate) - Weight 24.5 KG 
Est. Box Size 1: 70 cm L X 56 cm B X 45 cm H (estimate) - Weight 23 KG 
Est. Box Size 2: 75 cm L X 66 cm B X 45 cm H (estimate) - Weight 21 KG 
Deposit : 6000HKD.
PO Close at 24th July 2019.
Free shipping for HK and Macau customers.