Figurama 1/6 Rurouni Kenshin 25th Anniversary Elite Exclusive Statue (Sold out)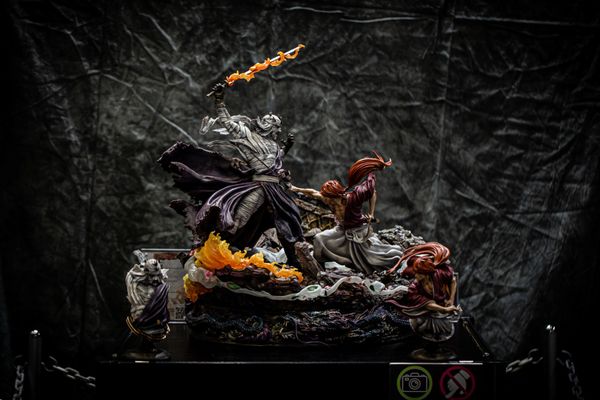 Figurama 1/6 Rurouni Kenshin 25th Anniversary Elite Exclusive Statue (Sold out)
Figurama Collectors premiere samurai piece, Kenshin VS Shishio 25th Anniversary Edition Elite Exclusive, debuts as the world's first Rurouni Kenshin Statue. This 1/6-scale masterpiece includes a record-first swappable torso for Kenshin, created under the guidance of a professional martial artist of kendo and iaido. Kenshin's two torsos portray him in his godspeed battōjutsu form and unleashing his secret ultimate technique, Amakakeru Ryu no Hirameki; his bare chest reveals Shishio's brutal bitemark and the burn caused by his enemy's up-close gunpowder blast, Guren Kaina. 
Shishio's Mugenjin katana includes a removeable fire sleeve, and his alternative portraits portray his rage and concentration in the heat of battle. Both characters' exchangeable parts are displayed on a unique stand featuring the tsuba guards on their respective katanas and Kenshin's iconic X-shaped scar. 
True to the legendary anime's most decisive battle, the Inferno Arena explodes with tension as Kenshin wields his sakabatō and unleashes the ancient Hiten Mitsurugi-ryū kenjutsu style against his successor. Striking his diecast metal katana, Mugenjin, across the ground, Shishio ignites the human fat soaked into his blade, preparing to execute deadly Homura Dama on Kenshin. Hidden behind the wreckage of the arena door lies the broken timepiece kept by Shishio's mistress, its downward-facing hands symbolizing death as Shishio pushes past his body's 15min limit and is consumed by flames. 
Beneath the battleground lies cultural accents and details from the manga. Fire and wind, Shishio's and Kenshin's elemental affinities, sweep across the base, with drifting sakura blossoms paying homage to the anime's motifs and the manga's final chapter "Cherry Blossoms in the Spring Time." A great dragon soars around the pedestal etched with Edo period patterns, representing the fierce beauty of Kenshin's secret ultimate technique Amakakeru Ryu no Hirameki and the deadly vacuum of wind left in its wake. 
DETAILS: 
•        Edition Size: 950 worldwide
•        Series: Elite Exclusive Statue 
•        Release Date: Q2 2021
•        Size: 1/6 scale – Approximately: H 60cm x W 60cm x D 55cm (H 24in x W 24in x D 22in) 
•        Certificate of Authenticity: signed by Figurama Collectors CEO Mr. Shanab, Concept Artist, Daniel Kamarudin, and 3D Artist, James W. Cain 
•        Includes: Exclusive Art print, 25th anniverary golden badge, two unique bust stands, two complete torsos for Kenshin, two portraits for Shishio, removeable fire sleeve for Mugenjin 
•        Materials: Polystone, Diecast Metal, PVC 
•        Creative Director: Mr. Shanab / Figurama Collectors Development Team 
•        Concept Artist: Daniel Kamarudin 
•        3D Artist/Sculptor: James W. Cain 
•        Coloring Artist: Three Eyes Studio 
Deposit:  4500HKD
Free shipping for HK customers.