Hex Collectibles 1/8 Uchiha Madara (Sold out)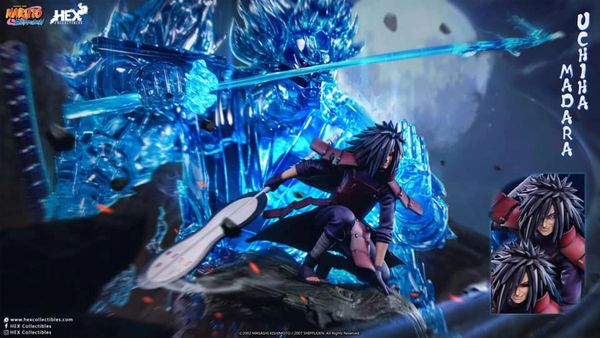 Hex Collectibles 1/8 Uchiha Madara (Sold out)
Product Information:
License: Naruto Shippuden
Product Name: Uchiha Madara —"Kekkei Genkai, Rinnegan: Susano'o"
SKU No: 908473
Product Scale & Type: 1/8 Scale Statue
Product Size: Height: 22.8" (580mm) | Width: 18.1" (460mm) | Depth: 23.6" (600mm) | *
Product Weight: 20.5kg
Materials: Polystone, PU, PVC
Limited Edition: 1000pcs
Expected to Ship: Q1 2022
Totally 2 heads (1 normal face with Rinnegan; 1 normal face with Eternal Mangekyo Sharingan)
About This Statue:
"There is no such thing as a true dream in this world."
Sideshow and HEX Collectibles present the Uchiha Madara 1:8 scale statue from Naruto Shippuden. This statue measures 58cm/22.8" tall. The creative inspiration comes from scenes where Yakushi Kabuto in Sage Mode resurrected Uchiha Madara in the Fourth Great Ninja War. He cannot wait to battle against Senju Hashirama after seeing him being brought back with the Edo Tensei by Orochimaru.
Uchiha Madara wears his iconic purple uniform with crimson armor with numerous metal plates, forming protective guards along his chest, waist, shoulders, and thighs. His right-hand holds Gunbai Uchiwa in which is made of the branches of Shinju. The dust and cracks covering his face are the symbols of the dead been brought back by Edo Tensei. The smirking on his face unveils his wily side. Madara recognizes as the strongest man of the Uchiha clan, also the first who awakened the Rinnegan. He becomes one of the most powerful shinobi in history after infusing himself with Hashirama's cells. Base on its original, the statue's base consists of rubble remnants from the battlefield and the mokuton: Jukai Kotan that Madara summons with a blue chakra flame burning around it. Madara stands on it and ready-to-fight. This posture represents the dynamic feeling of the character perfectly. This complete body of Susano'o is made of blue chakra with outer armor that is nearly impenetrable stands on the base behind Madara. It has two sets of arms, one of which can form wings as part of its complete body form. It wields sheathed katana, held in the right hand of each side while making defensive posture with his left hand to cooperate with Madara to face the coming enemy. As a complete body of Susano'o, Susano'o gains a tengu-like nose, revealing his eyes while obscuring the rest of its face terrifying the enemy on the battlefield.
Just like the brand concept of HEX Collectibles, we have always looked at ways that products in the market can be improved. Finding new ways to push the boundary and capture the essence of the characters we love, while bringing beloved characters to life in the dynamic style that we are known for.
Naruto Shippuden fans, don't miss your chance to add this Uchiha Madara Statue to your collection!
Deposit : 1600HKD
Free shipping for HK customers