HEX Collectibles 1/8 Uzumaki Naruto (Pre Order) <Sold out>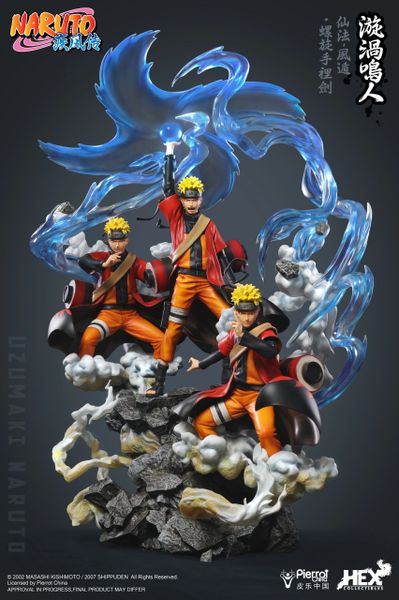 HEX Collectibles 1/8 Uzumaki Naruto (Pre Order) <Sold out>
1.      Statue Description
"I want to defeat you! And bring peace to the world of ninjas!!"
HEX Collectibles presents the Uzumaki Naruto Statue. The statue measures 52cm tall from the scene of Uzumaki Naruto under Sennin Modo used the Senjutsu Futon Rasen Shuriken during the battle with Pain from the AKATSUKI.
The statue features Uzumaki Naruto under Sennin Modo with dynamic posing and setting. Naruto wearing his classic orange and black suit and the unique red and black cape of Sennin Modo. In his pupils, there were unique pupil shapes under the Sennin Modo, and a large range of orange symbols around his eyes, and the reverse Summoning scroll of Senjutsu Chakra's Multi Shadow Clone Jutsu. Also there are two Multi Shadow Clone Jutsu beside him to accumulate Chakra. The Senjutsu Futon RasenShuriken in the hand of Uzumaki Naruto showing the high-speed rotation and Senjutsu Chakra that draws the power of the earth are all made of transparent parts.
Themed of the ruins and stones of Konohagakure destroyed by Pain's Shinratensei and the smoke formed by Uzumaki Naruto's Multi Shadow Clone Jutsu as the statue base.
Just like the brand concept of HEX Collectibles, we've always looked at ways that products in the market can be improved. Finding the new ways to push the boundary and capture the essence of the characters we love. And bringing beloved characters to life in the dynamic style that we're known for.
Naruto Shippuden fans, don't miss your chance to add Uzumaki Naruto Statue to your collection!
2.      Product Information
License:Naruto: Shippūden
Product Name:Uzumaki Naruto —"Senjutsu Futon RasenShuriken"
Product Scale:1/8
Product Size:H:52cm W:39cm D:37cm
Product Weight:About 8.5KG
Product Material:Polystone, PU and mixed resin material
SKU No.:NARUTO 001
Limited Edition:600pcs
EST Arrival:Estimate Q2 in 2021
Addition in box: Concept Art*1, Certification*1, Instruction for installation*1
Deposit 1600HKD

Free shipping for HK customers