Kids Logic 1/4 Leo Aiolia Statue with Digital Sound System (Pre Order)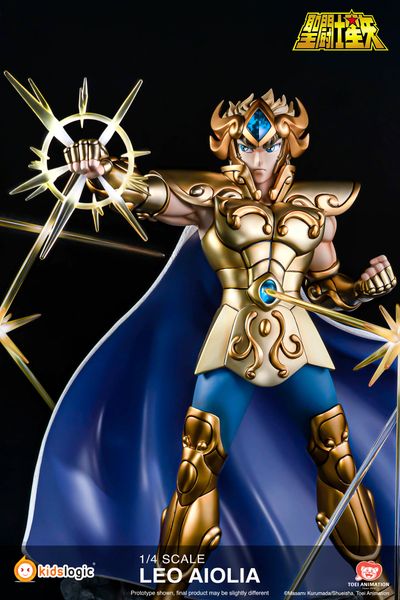 Kids Logic 1/4 Leo Aiolia Statue with Digital Sound System (Pre Order)
Manufactured by: Kids Logic Co Ltd
Licensed by: TOEI Animation Enterprises Ltd
Official product licensed by TOEI Animation.
Kids Logic is proud to present the third statue from Saint Seiya series - ST16 1/4 Leo Aiolia Statue with Digital Sound System
Followed by the 1/4 Armored Athena Statue and 1/4 Gemini Saga Statue, this 1/4 Leo Aiolia is another high quality one in our Saint Seiya statue series. With the big scale of 50 cm tall, following the appearance from the Saint Seiya TV episode 51 "Why! Fang of the Gold Lion", we recreate the diorama scene of Leo Aiolia with his famous attacking skill, Lightning Plasma. As Saint Seiya fans, we pay attention to every detail of the sculpture and we apply our experienced painting technique to perform the strongest metallic painting effect on the gold armour of the Gold Saint - LEO AIOLIA.
This is absolutely a must-have item for all Saint Seiya collectors.
Figurine Dimension: 50 (W) X 35 (L) X 50 cm (H: Height of Leo Aiolos)
Stand Base Dimension: 35 cm (Diameter) X 20 cm (H: Height of the Base)
Clear plastic parts of Lightning Plasma effect
Weight: Estimate 15kg
Material: Polystone, Resin, PVC, Metal Parts
Detail Painting: Metallic Painting Effect, Weathering Effect
Wireless Digital Sound System at the stand base of the statue
2 X External Speaker
Creative Director: Kenneth Kan
Concept Design: Skan Srisuwan @ Studio HIVE
Sculptor: Mick Lee
Prototype Painter: Mick Lee
Production Manager: CM Wong
Painting Controller: Mick Lee
Deposit: 2000HKD
Free shipping for HK customers