LBX 1/3 The Incredible Hulk: Premier Edition (Pre Order)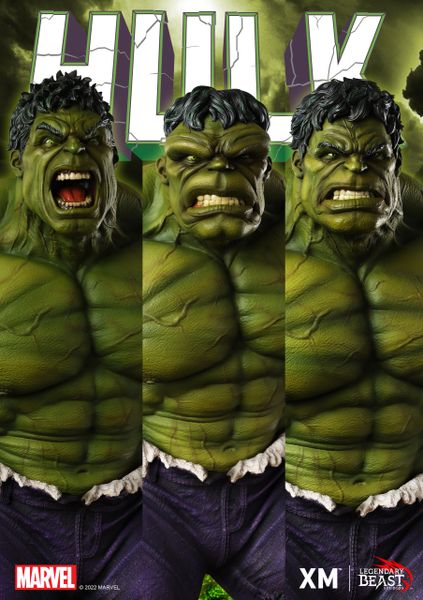 LBX 1/3 The Incredible Hulk: Premier Edition (Pre Order)
Product Description for Premier Edition:
Highly detailed, fully painted polystone statue, featuring The Incredible Hulk in all his gamma-powered glory. The PREMIER EDITION includes swappable versions of the three available designs (MODERN, CLASSIC, FIRST APPEARANCE) as alternate torsos, giving fans the option to display the one they like best!
The latest in Legendary Beast Studios' Prestige Series of iconic statues, the Hulk is presented in a powerful pose, ready to unleash his rampaging might! Also included is a highly detailed base that recreates the event that led to scientist Bruce Banner becoming The Incredible Hulk! Collectors ordering the PREMIER EDITION will also receive two EXCLUSIVE Incredible Hulk logo bases for displaying the alternate torsos independently of the main statue.
The Incredible Hulk: Premier Edition Premium Collectibles statue features:
Highly detailed, fully painted polystone statue, featuring The Incredible Hulk
Crafted in Polystone
Three (3) switch-out torsos: 1 Modern Enraged Version torso, 1 Classic Version torso, 1 First Appearance Version torso
ES: MTO Max 699
Artists:
Legendary Beast Studios Team (Concept Design)
Tiago Zenobini (3D Sculpt)
Allan Macedo (3D Sculpt)
Legendary Beast Studios Team (Master Painter)
Manufactured by:
Product and Box Dimensions
Product Size: 71.12 x 50.8 x 99.06 cm
Est. Box Size: 80*57*45cm (Box A);  85*85*61cm (Box B); 80*48*35cm (Box C); 89*85*60cm (Box D)
Est. Product Weight: 110kg
Est. Shipping Weight: 36kg (Box A); 40kg (Box B); 24kg (Box C); 42.5kg (Box D)
Note: Prototype shown and pending final approval, final product may differ. Batteries will not be included for products with light up features due to customs.
Deposit: 8000HKD
Free shipping HK customers.