Oniri Creation Death Note 1/6 Misa & Rem (Pre Order)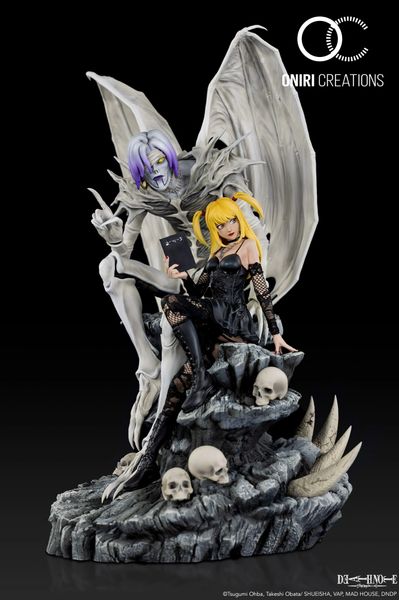 Oniri Creation Death Note 1/6 Misa & Rem (Pre Order)
Edition size :  999 copies
Release date : Q1 2024
Dimensions :  H43 x W25 x D32 cm
We find Misa Misa in a black "Gothic" outfit made of real tights and stockings (actual fabric on the statue) with Rem raising a finger at her side, perfectly symbolizing her role as advisor and protector for Misa.

Both stand on a base symbolizing the World of the Death Gods, reinforcing the dark side of the two characters and the statue. Perfectly modeled in 3D following the settei provided by the license holders, an equally particular care was taken in the painting. Whether we're focusing on Misa's particular skin tone, or the shades of bluish gray and black on her outfit, the two characters seem to come straight out of the anime.
Rem is obviously not left out with many shades on her body, her face, but also the characteristic gradient of her hair.
The base representing the same environment as for Light & Ryuk, a similar treatment was applied for the colors. This diorama will undoubtedly be a centerpiece in any collection.
Deposit: 2000HKD
Free shipping for HK customers