PREMIUM COLLECTIBLES: 1/4 VENOM (Pre Order) - Sold Out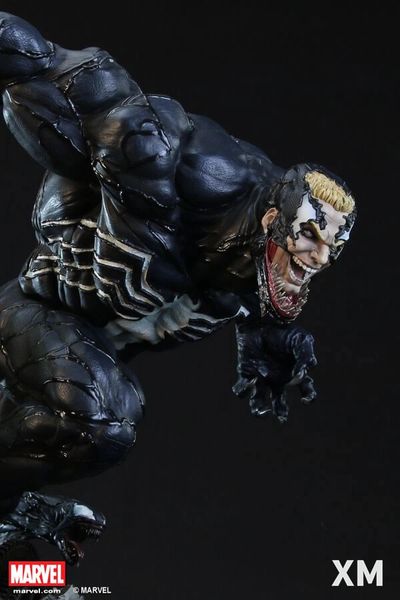 PREMIUM COLLECTIBLES: 1/4 VENOM (Pre Order) - Sold Out
LIMITED TO 999 PIECES WORLDWIDE


""YOU DON'T HAVE TO SSSSSSEEEE USSSS TO FEEEEAR USSS...."
XM Studios is excited to present our next Marvel Premium Collectibles series statue, Venom! The Arch nemesis of Spider-man is immortalized in amazingly detailed 1:4 scale cold-cast porcelain. Each painstakingly handcrafted statue is individually hand-painted with the highest possible quality finish. Venom is one of Spider-Man's most formidable foes: stronger, faster, and immune to his Spider-Sense. Experience the dreaded feeling the web slinger feels whenever he meets the terrifying and aggressive villain!
BACKGROUND:
Eddie Brock, a disgruntled ex-journalist, and Spider-Man's jilted alien symbiote costume that he acquired in Secret Wars, became Venom, perhaps the most successful iteration of "evil version of the hero" in all of comics. He wages a campaign of torment against Peter Parker, invading his private life and threatening his loved ones. He is not altogether evil, though: he exhibits moments of compassion, like rescuing a little girl during a pitched battle with Spider-Man. He even ends up in a few Enemy Mine situations with him - generally to combat the symbiote's "child", Carnage, which has bonded with Serial Killer Cletus Kasady.

THE VENOM PREMIUM COLLECTIBLES STATUE FEATURES:
Three (3) interchangeable heads for alternate display
Crafted from cold-cast porcelain
Limited edition : 999
Art print by Studio Hive
ARTISTS:
Studio HIVE (Illustrator, Design and Concept Collaboration with XM Studios)
Alejandro Pereira Ezcurra (Sculpt)
XM Studios Design and Development Team

MANUFACTURED BY:
XM Studios
NOTE: Prototype shown and pending final approval, final product may differ
Product size : 60 cm H X 52 cm L X 56 cm B
Est. Box Size : 70 cm H X 62 cm L X 66 cm B
Est. Product Weight : 13.7 KG
Est. shipping weight : 23 KG