PREMIUM COLLECTIBLES: MYSTERIO STATUE (COMICS VERSION) - Sold out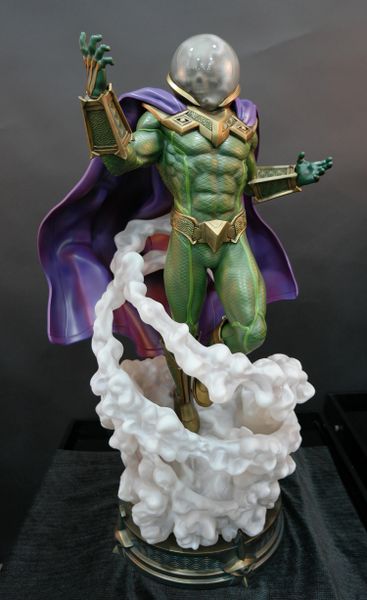 PREMIUM COLLECTIBLES: MYSTERIO STATUE (COMICS VERSION) - Sold out
XM Studios is excited to present our next Marvel Premium Collectibles series statue, Mysterio! The master hypnotist and special effects specialist is immortalized in amazingly detailed 1:4 scale cold-cast porcelain. Each painstakingly handcrafted statue stands at approximately 65 cm tall and every piece individually hand-painted with the highest possible quality finish. Appearing menacingly amidst swirling gas that could confuse Spidey's spider-sense, the hallucinogenic gas also contains chemicals that could easily dissolve Spidey's webbing! Watch out, Web crawler!

$1500HKD deposit is required for each piece pre-ordered. Please note that submitting a preorder does not guarantee the purchase. Prices include Tax. XM Studios require a non refundable deposit of $1500HKD before confirming your order but hey don't worry, we will be in touch (usually within 5 working days) to explain payment options and methods. Once deposit payment is cleared, your order will be guaranteed!

BACKGROUND:
Quentin Beck was an expert in designing special effects devices and stage illusions, as well as a master hypnotist and magician, and an amateur chemist. He also possessed a wealth of knowledge in hand-to-hand combat techniques that he learned as a stuntman. Unfortunately, all these things did little to help his career in the film industry. One day, a colleague joked that the easiest way to become famous was to take out a costumed hero and he chose Spider-man! It was here that Mysterio was born!

THE KRAVEN PREMIUM COLLECTIBLES STATUE FEATURES:
Approximately 65 cm tall 

Three (3) interchangeable heads for alternate display

Crafted from cold-cast porcelain  

Art print by Studio Hive

Limited edition : 800
ARTISTS:
Studio HIVE (Illustrator ,Design and Concept Collaboration with XM Studios)

Marthin Agusta (Sculpt)

XM Studios Design and Development Team

MANUFACTURED BY: 
XM Studios
Product size : 65 cm  H X 35cm L X 35cm B
Est. Box Size : 75cm H X 45cm L X 45cm B 
Est. Product Weight : 9kg
Est. shipping weight : 15kg
NOTE: Prototype shown and pending final approval, final product may differ slightly