Purearts CYBERPUNK 2077 ULTIMATE BUNDLE (Pre Order)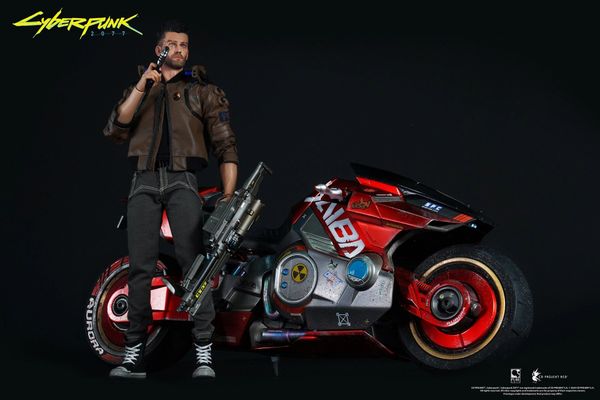 Purearts CYBERPUNK 2077 ULTIMATE BUNDLE (Pre Order)
License: CD Projekt Red
Get your mind blown by this futuristic and highly detailed collection including the most accurate replica of V, the main playable character from Cyberpunk 2077® presented by PureArts and CD Projekt Red.
All of V's attitude is very well captured in this 1/6 scale articulated figure and the Cyberpunk ambiance is even brought to life thanks to an ingenious LED device hidden under the leather jacket collar.
To complete the collection, PureArts created Yaiba Kusanagi, the exact replica of V's sportbike that the character uses in the video game. Every single detail is accurate and reproduced on this 1/6 scale badass machine including rolling-wheels and front and back light options.
This bundle includes both V Male and Female, the Yaiba Kusanagi sportbike, and the Militech Spider Bot.
Scale: 1/6
Included: (1) V Male figure + (1) V Female figure + (1) Sportbike + (1) Militech Spider Bot
Material:

 

PVC/ABS and fabric

Availability: Worldwide

Estimated

 

Delivery: Sept 2020
Limitation:

 

2077
Common to all V figures:

1/6 scale fully articulated body (over 30 points of articulation)
Hand-painted head sculpt with detailed skin texture and Kiroshi Optics
Custom tailored clothing
Leather jacket with blue lights in the collar
Black cotton t-shirt
Militech M-10AF Lexington
branded base
(1) Right hand holding the Militech M-10AF Lexington
(1) Right fist
(1) Left fist
Slim, low-waist jeans
High-top black textile sneakers with orange lights on the outsole
Constitutional Arms M2067 Defender
(1) Left arm articulated Mantis blade
(2) Hands holding the Constitutional Arms M2067 Defender
Black, skinny, low-waist leather trousers with a silver carabiner keychain

Black platform motorcycle shoes made of leather

Kang Tao G-58 Dian

(2) Strong arms

(2) Hands holding the Kang Tao G-58 Dian
The Yaiba Kusanagi Sportbike features:

:
One (1) fully sculpted motorcycle

Some die-cast parts
Light options include front and back
Front and back rolling-wheel
Deposit: 2000HKD
Free shipping for HK customers.