Purearts CYBERPUNK 2077: V MALE 1/6 ARTICULATED FIGURINE (Pre Order)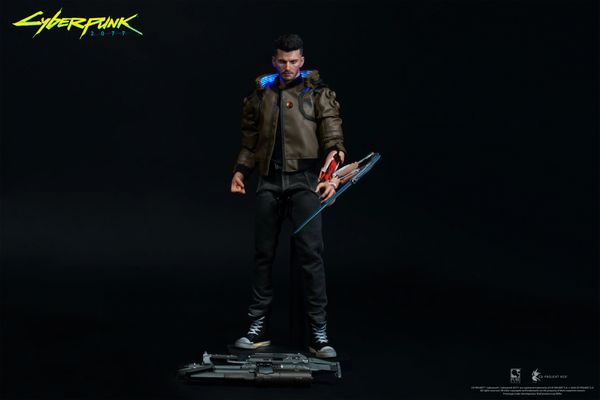 Purearts CYBERPUNK 2077: V MALE 1/6 ARTICULATED FIGURINE (Pre Order)
License: CD Projekt Red 

Get your mind blown by this futuristic and highly detailed collection including the most accurate replica of V, the main playable character from Cyberpunk 2077
 presented by PureArts and CD Projekt Red.
Scale: 1/6
Material: PVC/ABS and fabric
Availability: Worldwide

Estimated

 

Delivery: Sept 2020
Limitation: n/a
First 250 customers 

who preorder this V Male will get the exclusive item included, the Militech Spider Bot!
Common to all V figures:
1/6 scale fully articulated body (over 30 points of articulation)
Hand-painted head sculpt with detailed skin texture and Kiroshi Optics
Custom tailored clothing
Leather jacket with blue lights in the collar
Black cotton t-shirt
Militech M-10AF Lexington
branded base
(1) Right hand holding the Militech M-10AF Lexington
(1) Right fist
(1) Left fist
For V Male Only:

Slim, low-waist jeans

High-top black textile sneakers with orange lights on the outsole

Constitutional Arms M2067 Defender

(1) Left arm articulated Mantis blade

(2) Hands holding the Constitutional Arms M2067 Defender
This up and coming cyberpunk of the Night City is represented by this premium quality action figure, beautifully crafted so you can freely display him to pose the way you want to.

 
All of V's attitude is very well captured in this 1/6 scale articulated figure and the Cyberpunk ambiance is even brought to life thanks to an ingenious LED device hidden under the leather jacket collar. 

 
Deposit: 600HKD
Free shipping for HK customers.