QS 1/1 𝗔𝗟𝗜𝗧𝗔 𝗕𝗔𝗧𝗧𝗟𝗘 𝗔𝗡𝗚𝗘𝗟 "𝗗𝗢𝗟𝗟 𝗕𝗢𝗗𝗬" (𝗠𝗔𝗦𝗧𝗘𝗥 𝗦𝗘𝗥𝗜𝗘𝗦) Standard Vre (Pre Order)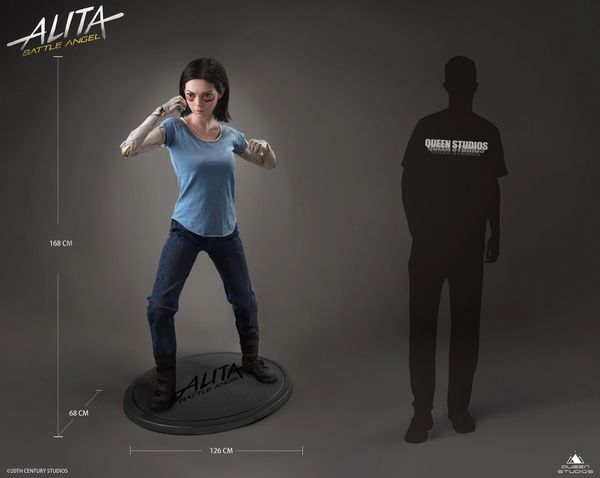 QS 1/1 𝗔𝗟𝗜𝗧𝗔 𝗕𝗔𝗧𝗧𝗟𝗘 𝗔𝗡𝗚𝗘𝗟 "𝗗𝗢𝗟𝗟 𝗕𝗢𝗗𝗬" (𝗠𝗔𝗦𝗧𝗘𝗥 𝗦𝗘𝗥𝗜𝗘𝗦) Standard Vre (Pre Order)
𝗣𝗥𝗢𝗗𝗨𝗖𝗧 𝗜𝗡𝗙𝗢𝗥𝗠𝗔𝗧𝗜𝗢𝗡
Product Name: Alita Battle Angel "Doll Body" 1/1 Statue (Master Series)
*Material: Resin, Platinum Silicone, Real Fabric
Standard Edition: 168cm (H) × 126cm (W) × 68cm (D)
Deluxe Edition: 182cm (H) × 132cm (W) × 128cm (D)
Estimated Delivery Time: Q1 2023
Edition Size: 99
𝗔𝗯𝗼𝘂𝘁 𝘁𝗵𝗲 𝗦𝘁𝗮𝘁𝘂𝗲𝘀
Queen Studios is pleased to release 1/1 and 1/4 Alita Battle Angel "Doll" Body statue from 20th Century Studios' Alita: Battle Angel (2019). Inspired by the 90's manga series "Gunnm", created by Yukito Kishiro. Film-makers James Cameron and Robert Rodriguez re-imagine the almost perfect manga series, adapting it for the silver screen. This 1/1 and 1/4 life-size statue by Queen Studios is a near perfect recreation of Cameron and Rodriguez's Alita, capturing the young Hunter Warrior in her "Doll" body and casual attire.
𝟭/𝟭 𝗔𝗹𝗶𝘁𝗮 𝗕𝗼𝗱𝘆 𝗮𝗻𝗱 𝗕𝗮𝘀𝗲
This Queen Studios' 1/1 scale full size Alita: Battle Angel Stands at 182cm tall. Queen Studios have created two editions of this expertly crafted collectible from the Queen Studios Master Series. Both versions feature Alita wearing her casual street clothes. Her porcelain "doll body" is intricately designed, capturing the unique patterns and clockwork. While her hyper-real silicone head sculpt recreates the characters likeness with stunning accuracy. The Standard Edition statue features a simple yet elegant base, while the Deluxe Edition features a complex movie inspired base.
Deposit: 32000HKD
Free shipping for HK customers.