QS 1/4 𝗔𝗟𝗜𝗧𝗔 𝗕𝗔𝗧𝗧𝗟𝗘 𝗔𝗡𝗚𝗘𝗟 "𝗗𝗢𝗟𝗟 𝗕𝗢𝗗𝗬" (Pre Order)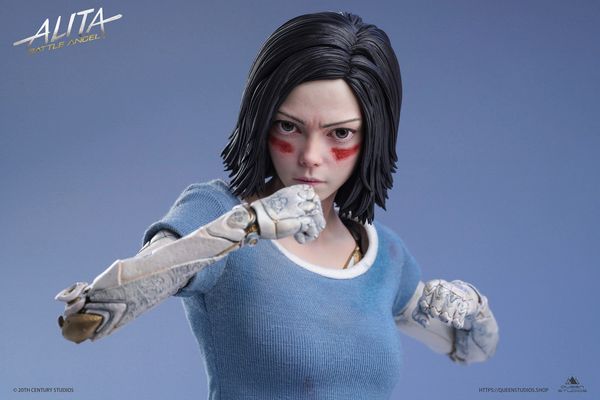 QS 1/4 𝗔𝗟𝗜𝗧𝗔 𝗕𝗔𝗧𝗧𝗟𝗘 𝗔𝗡𝗚𝗘𝗟 "𝗗𝗢𝗟𝗟 𝗕𝗢𝗗𝗬" (Pre Order)
Product Name: Alita Battle Angel "Doll Body" 1/4 Statue
*Material: Resin, PU, Real Fabric
Product Size: 47cm (H) × 33cm (W) × 34cm (D)
Estimated Delivery Date: Q4 2022
Edition Size: 599
*Full list of materials will be listed on the product web page.
----------------------------------------------------
𝗔𝗯𝗼𝘂𝘁 𝘁𝗵𝗲 𝗦𝘁𝗮𝘁𝘂𝗲𝘀
Queen Studios is pleased to release 1/1 and 1/4 Alita Battle Angel "Doll" Body statue from 20th Century Studios' Alita: Battle Angel (2019). Inspired by the 90's manga series "Gunnm", created by Yukito Kishiro. Film-makers James Cameron and Robert Rodriguez re-imagine the almost perfect manga series, adapting it for the silver screen. This 1/1 and 1/4 life-size statue by Queen Studios is a near perfect recreation of Cameron and Rodriguez's Alita, capturing the young Hunter Warrior in her "Doll" body and casual attire.
This Queen Studios' 1/4 scale Alita statue: Battle Angel Stands at 47cm tall. A near perfect scaled down replica of the 1/1 Life-Size statue, this piece is perfect for those who don't have the space for a 1/1. Like the life-size statue, her porcelain "doll body" is intricately designed, capturing the unique patterns and clockwork. Her likeness has been recreated with stunning accuracy, and the unique movie inspired base is packed full of detail making this the ultimate collector piece.
Deposit: 1700HKD
Free shipping for HK customers.