Queen Studio 1/6 Yuji Itadori (Pre Order)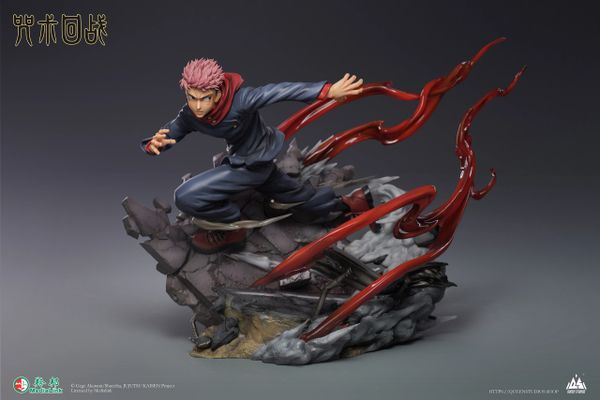 Queen Studio 1/6 Yuji Itadori (Pre Order)
PRODUCT INFORMATION
Product: Yuji Itadori 1/6 Statue
Material: Resin, PU
Size: 27cm (H) × 39cm (W) × 22cm (D)
Edition Size: 300
Est. Delivery: Q4, 2023
ABOUT THE CHARACTER
The protagonist of the Japanese anime series "Jujutsu Kaisen", Yuji Itadori lived an ordinary high school life. That is until one day, Yuji attempts to save his companions from a swarm of cursed spirits and ingests the cursed finger of "Ryomen Sukuna". From that day on, Yuji Itadori, shares a body with "Ryomen Sukuna" (The King of Curses) becoming his vessel. Under the guidance of Gojo Satoru, the most highly skilled sorcerer, he must find the remaining fingers and eliminate them once and for all.

ABOUT THE STATUE
Queen Studios's 1/6 Yuji Itadori is inspired by the battle between Yuji and Eso in Episode 24 of the Jujutsu Kaisen series. The super cursed spirit unleashes the "Wing King" technique turning blood into a corrosive burning weapon. Yuri Itadori must use his superior athletic capabilities to out run the attack, zigg-zagging where he can.

To capture this incredible scene, Queen Studios' artists have recreated Yuri Itadori as he is treading on a stone wall beside the road. His feet press firmly into the rubble, while his clothes ripple as he speeds through the air in an action packed running pose. Yuji's headsculpt captures the character's features with incredible accuracy, depicting the young Yuji with a determined expression. 

ABOUT THE BASE
For the base, Queen Studios' artists have recreated the road scene during the infamous battle. The broken road and deformed guardrail all reflect the fierce force of the oncoming "Wing King" attack. Sharp blood warps around with vivid red and smoke effects tying the piece together.
Free shipping for HK customers