Queen Studio Mai Shiranui Life-Size Bust (Pre Order)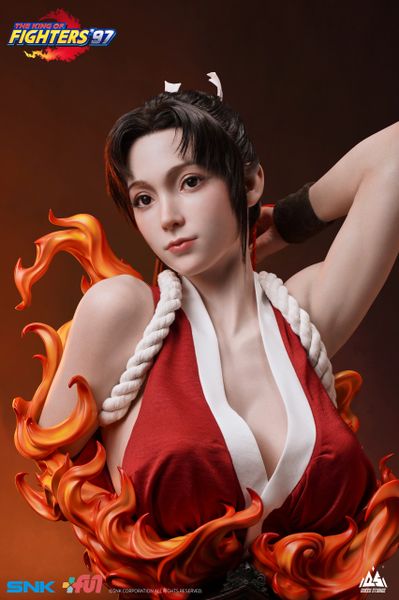 Queen Studio Mai Shiranui Life-Size Bust (Pre Order)
PRODUCT INFORMATION
Product: Mai Shiranui Life-Size Bust
Material: Platinum Silicone, Resin, PU
Size: 74cm (H) × 57cm (W) × 53cm (D)
Edition Size: 300
Est. Delivery: Q1, 2024
MARKETING COPY
About the Character
Mai Shiranui is a female ninja descended from the Shiranui ninjas. "The Alluring Ninja Girl" wears a red and white Kunoichi dress, with circular white ropes secured around her shoulders. As one of the founders of the Women Fighters Team, she posses devastating skill and power to take down her enemy, while she carries her iconic white Kachō Sen ("butterfly fan") as her primary weapon.

About the Bust
Designed by Queen Studios, the 1/1 life-size Mai Shiranui silicone captures "The Alluring Ninja Girl" in her classic red and white ninja costume from the King of Fighters '97. QS' team of expert artists use advanced technology to sculpt the character's beautiful facial structure. Platinum silicone is used to recreate the real skin look and feel with a light blush. Her hair is meticulously rooted one by one, before being professionally styled. 

Body And Base 
Mai Shiranui's outfit is a clear stand out in King of Fighters '97. To recreate the costume, the QS team have hand-picked the finest materials to do the character's outfit justice. Once selected, the team cut and style the fabric to create an authentic look that brings the character to life. For the base, Queen Studios' artists selected classic Japanese architectural elements to reflect the background of Mai. Flames have also been added to highlight one of Shiranui's powers, creating a strong dynamic aesthetic. 
Free shipping for HK customers