Queen Studios Alita Battle Angel "Doll Body" 1/1 Cyborg Arm (Pre Order)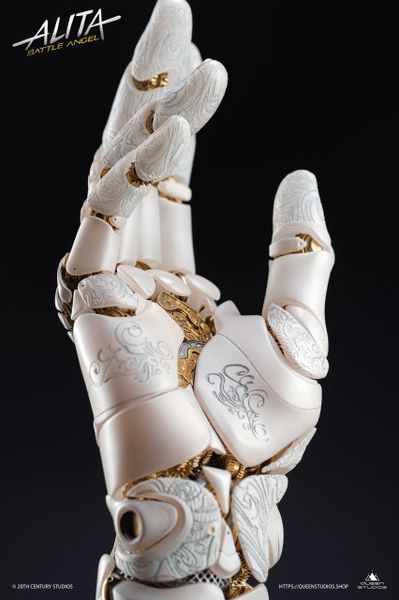 Queen Studios Alita Battle Angel "Doll Body" 1/1 Cyborg Arm (Pre Order)
𝗣𝗥𝗢𝗗𝗨𝗖𝗧 𝗜𝗡𝗙𝗢𝗥𝗠𝗔𝗧𝗜𝗢𝗡
BRAND: QUEEN STUDIOS
MATERIAL*: RESIN, PU
PRODUCT SIZE: 48CM (H) x 33CM (W) x 34CM (D)
ESTIMATED DELIVERY TIME: Q4 2022
EDITION SIZE: 300
"Full list of materials will be listed on the product web page.
---------------------------------------------------
𝗔𝗯𝗼𝘂𝘁 𝘁𝗵𝗲 𝗰𝗵𝗮𝗿𝗮𝗰𝘁𝗲𝗿
Following the 2019 epic "Alita: Battle Angel", The Alita franchise has experienced a well-deserved revival across the planet! The Great War ended some years ago, the impact has echoed for generations. In a scrapyard, scientist Dr. Dyson Ido ponders upon an unconscious bionic woman. A young female that he names Alita! Once awake, Alita must adapt to a strange environment, a perilous new world. With the help of her newly acquainted friend Hugo, she embarks on a journey of self-discovery. But Alita soon discovers there's more to what she truly is, to what she once thought.
𝗔𝗯𝗼𝘂𝘁 𝘁𝗵𝗲 𝗔𝗹𝗶𝘁𝗮 𝗔𝗿𝗺
Queen Studios are happy to announce most exquisite addition to our Battle Angel collection, the 1/1 scale Alita Battle Angel "Doll" Body Arm. Alita Battle Angel "Doll Body" 1/1 Scale Collectible Arm is an credibly accurate replica of Alita's arm from the stunning "Doll" body.
True to the arm we saw in the movie, this 1/1 scale replica captures the beautiful porcelain look including all of the intricate patterns on the surface of the arm. In order to achieve the same effect as in the film, we chose a semi-transparent resin material to allow light to pass through the shell catching the clock-work mechanism beneath.
Deposit: 2500HKD
Free shipping for HK customers.