Queen Studios Iron Man Mark7 1/3 Statue Regular Edition (Pre-Order)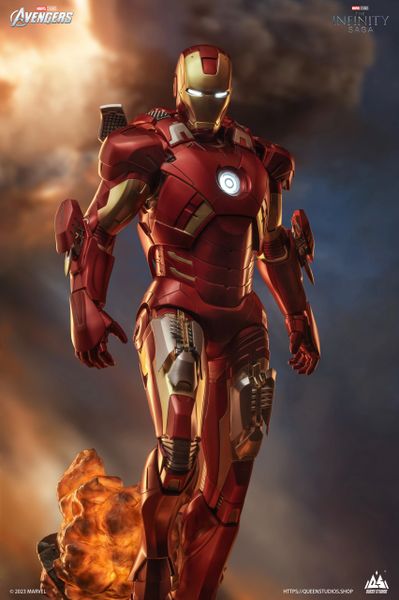 Queen Studios Iron Man Mark7 1/3 Statue Regular Edition (Pre-Order)
PRODUCT INFORMATION
Product: Iron Man Mark7 1/3 Statue
Material: Resin, PU
Edition:
Regular Edition
Size: 
Regular Edition: 89CM (H) x 41CM (W) x 42CM (D)
Edition Size: 
Regular Edition: 299
Est. Delivery: Q4, 2024
About the Statue
Introducing the new 1/3 scale Iron Man Mark 7 statue by Queen Studios. 
Standing 89cm tall, this limited edition collectible captures Tony Stark's seventh iteration of the iconic Iron Man armor from Marvel's The Avengers, with impressive detail. 
Available in two versions, the MK7 stands in a heroic pose as he hovers above smoke and debris. The Regular version recreates the armor in pristine condition painted to near perfection. While the Battle Damaged version is painstakingly designed to capture combat-tested suits with its weathered and worn aesthetic. 
Special Features
Both versions of the 1/3 Iron Man Mark 7 statue include internal lighting in the eyes, an arc reactor and palm repulsors. The base adds to the dynamic nature of the statue, with internal lighting shining like embers in the smoke as Iron Man lands safely.
Deposit: 4400HKD
Free shipping for HK customers.