Queen Studios Michael Jackson Life-size Bust (Pre-Order)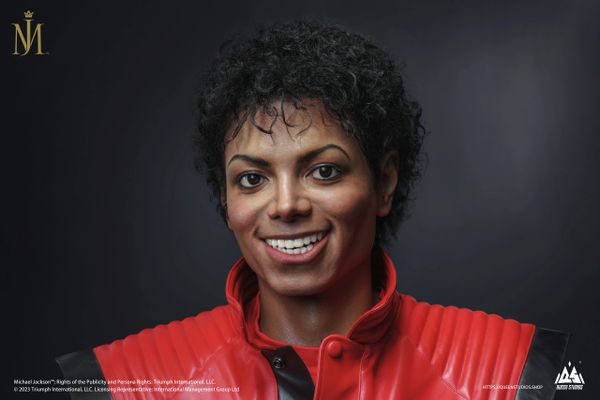 Queen Studios Michael Jackson Life-size Bust (Pre-Order)
PRODUCT INFORMATION
Product: Michael Jackson Life-size Bust
Material: Resin, Platinum Silicone, Genuine Leather
Size: 84CM (H) x 57CM (W) x 41CM (D)
Edition Size: 299
Est. Delivery: Q4, 2024
MICHAEL JACKSON
Michael Jackson, famously known as the King of Pop, was an extraordinary artist with charisma and a multifaceted character who left a profound impact on the world. His influence on the music industry and popular culture is immeasurable, and he will always be remembered as one of the greatest entertainers in history.
ABOUT THE BUST
The 1/1 life-size Michael Jackson Thriller bust brings the iconic King of Pop to life like never seen before. This extremely limited collectible designed by Queen Studios captures MJ from his 1984 hit single Thriller. To recreate MJ's likeness, the QS team has spent countless hours watching his classic music video, studying images closely. The team use this source material to digitally sculpt his unique facial features and create a head sculpt mould with breathtaking accuracy. Master artists then add silicone to the sculpt, painting each bust by hand to capture Michael's skin tone. To add the finishing touches, QS artists hand root each hair one strand at a time and add prosthetic glass eyes to keep the bust hyper-real.
Deposit: 10000HKD
Free shipping for HK customers.