Queen Studios 𝗣𝗿𝗲𝗺𝗶𝘂𝗺 𝗘𝗱𝗶𝘁𝗶𝗼𝗻: 𝗧𝗗𝗞 𝗕𝗮𝘁𝗺𝗮𝗻 𝟭/𝟭 𝗦𝘁𝗮𝘁𝘂𝗲 (𝗖𝗼𝘄𝗹 𝗛𝗲𝗮𝗱 𝗦𝗰𝘂𝗹𝗽𝘁 𝗢𝗻𝗹𝘆)(Pre-Order)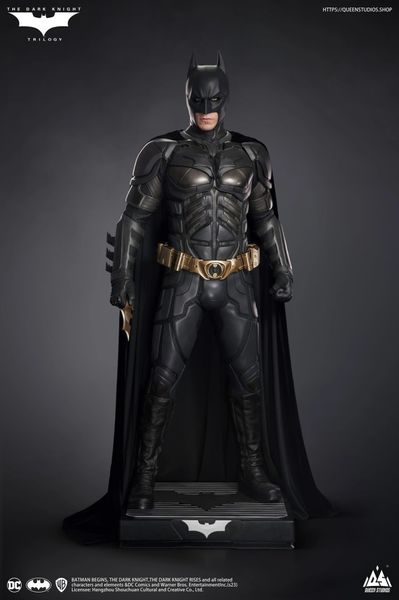 Queen Studios 𝗣𝗿𝗲𝗺𝗶𝘂𝗺 𝗘𝗱𝗶𝘁𝗶𝗼𝗻: 𝗧𝗗𝗞 𝗕𝗮𝘁𝗺𝗮𝗻 𝟭/𝟭 𝗦𝘁𝗮𝘁𝘂𝗲 (𝗖𝗼𝘄𝗹 𝗛𝗲𝗮𝗱 𝗦𝗰𝘂𝗹𝗽𝘁 𝗢𝗻𝗹𝘆)(Pre-Order)
New Items from Queen Studios for Wonder Fest Shanghai 2023!!!!
𝗣𝗿𝗲𝗺𝗶𝘂𝗺 𝗘𝗱𝗶𝘁𝗶𝗼𝗻: 𝗧𝗗𝗞 𝗕𝗮𝘁𝗺𝗮𝗻 𝟭/𝟭 𝗦𝘁𝗮𝘁𝘂𝗲 (𝗖𝗼𝘄𝗹 𝗛𝗲𝗮𝗱 𝗦𝗰𝘂𝗹𝗽𝘁 𝗢𝗻𝗹𝘆)
ABOUT THE CHARACTER
The transformation of Bruce Wayne into Batman is rooted in a profound tragedy. Witnessing the brutal murder of his parents by a ruthless street criminal, Bruce makes a solemn vow to rid Gotham City of its deep-seated criminality. Guided by the mysterious Ra's al Ghul and the enigmatic League of Shadows, Bruce meticulously hones his combat skills to the pinnacle of perfection. Upon his return to Gotham, he embraces the persona of Batman, a symbol of fear that strikes terror into the criminal underworld. Yet, a new adversary emerges, pushing Batman to the edge as he grapples with the delicate balance between heroism and vigilantism.
CHRISTIAN BALE
ABOUT THE STATUE
Queen Studios proudly presents the TDK Batman 1/1 Statue and the 1/1 life-size bust. Both unparalleled masterpieces that capture the essence of Christian Bale's portrayal of the Dark Knight. There are four variants: Regular Edition, Premium Edition, Deluxe Edition, and Ultimate Edition.

The Regular Edition features an astonishingly lifelike life-size bust of Christian Bale, complete with meticulously rooted artificial hair. 

The Premium Edition is a life-size Batman statue with a masked Dark Knight Batman Cowl head sculpt, faithfully representing the character's cinematic presence. 
ABOUT THE BASE
The Masked Batman 1/1 Statue rightfully stands upon a base adorned with the iconic Batman logo, adding a subtle touch of Gotham's gritty sophistication to this exceptional collectible. The base not only enhances the statue's visual grandeur but also pays homage to Batman's enduring legacy in a city plagued by darkness. The Christian Bale Life-Size Bust's base also features a prominent Batman logo at the front.
------------------------
𝗣𝗥𝗢𝗗𝗖𝗨𝗧 𝗜𝗡𝗙𝗢𝗥𝗠𝗔𝗧𝗜𝗢𝗡
Edition Size: 129
Estimated Delivery Date: Q4 2024
------------------------
Deposit: 17600HKD
Free shipping for HK customers.