Queen Studios TGIF No 1 1/3 "𝐓𝐇𝐀𝐍𝐊 𝐆𝐎𝐃 𝐈𝐓'𝐒 𝐅𝐑𝐈𝐃𝐀𝐘" ES 499 - Sold out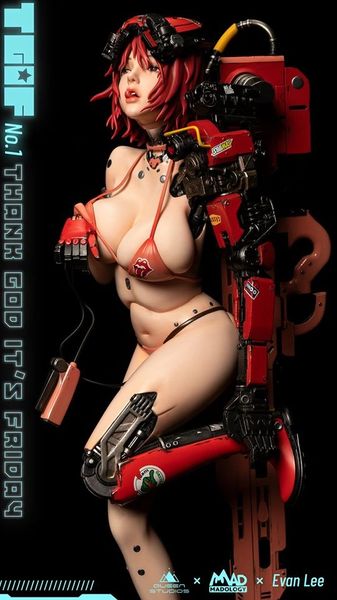 Queen Studios TGIF No 1 1/3 "𝐓𝐇𝐀𝐍𝐊 𝐆𝐎𝐃 𝐈𝐓'𝐒 𝐅𝐑𝐈𝐃𝐀𝐘" ES 499 - Sold out
𝐐𝐔𝐄𝐄𝐍 𝐒𝐓𝐔𝐃𝐈𝐎𝐒 𝐓𝐆𝐈𝐅 𝐍𝐎.𝟏
"𝐓𝐇𝐀𝐍𝐊 𝐆𝐎𝐃 𝐈𝐓'𝐒 𝐅𝐑𝐈𝐃𝐀𝐘"
The Queen Studios team is proud to announce a new collaboration with the incredible artist Evan Lee and the brand MADOLOGY. 
Very soon we'll be releasing the first co-branded 1:3 scale statue of the stunning and dangerous TGIF No.1 
The statue will feature intricate detailing in both the mechanical parts and weaponry, as well as humanistic features. TGIF No.1 encapsulates sexy and cool! 
The prototype design is from Evan Lee's illustration; then MADOLOGY and QUEEN STUDIOS will bring her to life. 
We'll be sharing more information on the character and the statue in the near future. 
In the meantime, you can check the page to find more work of Evan Lee's concept design. https://www.evanartweb.com
Size: 56 x 17.5 x 22cm
Release : Q3 2021
Deposit 2400HKD
Free shipping for HK customers.