Queens Studio 𝑰𝑹𝑶𝑵 𝑴𝑨𝑵 𝑴𝑨𝑹𝑲 7 1/1 𝑳𝑰𝑭𝑬-𝑺𝑰𝒁𝑬 𝑺𝑻𝑨𝑻𝑼𝑬 (Sold Out)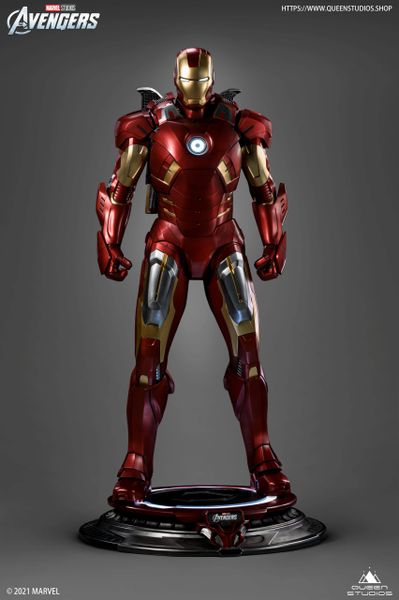 Queens Studio 𝑰𝑹𝑶𝑵 𝑴𝑨𝑵 𝑴𝑨𝑹𝑲 7 1/1 𝑳𝑰𝑭𝑬-𝑺𝑰𝒁𝑬 𝑺𝑻𝑨𝑻𝑼𝑬 (Sold Out)
Material: Polystone
Edition Size: 99
Estimated Delivery Date: Q1 2023
----------------------------------------------------
𝐀𝐁𝐎𝐔𝐓 𝐓𝐇𝐄 𝐂𝐇𝐀𝐑𝐀𝐂𝐓𝐄𝐑
Tony Stark is billionaire, philanthropist and an engineer way ahead of his time. His Mark 7 was the first time we saw Stark out do himself and showcase what he could acheive. These suits are the finest weapons ever made. Tony Stark's MK7 is a credit to Stark's curiosity into experimentation of the Iron Man mark series. The suits more favourable function is its ability to be deployed. Once deployed it can find its wearer and form itself around its pilot in mid-air.
Queen Studios' Iron Man Mark 7 1:1 scale statue stands at 204cm. The suit is rocket-car red, gold with silver panels. The MK 7 is of a ridged design. This is due to Stark's utilisation of modular panelling. Unfortunately, he has not yet developed the nanotechnology we see in the later MCU movies. Queen Studios' MK 7 includes LEDs in the suit's chest reactor, eyes, and base, allowing them to glow. The pose for this statue is also taken from the first Avengers movie when Iron Man lands on the streets of New York after he suits up ready for battle.
This statue and base are polystone. And all parts which resemble metal are coated with a textured paint. It gives them a metallic finish. The base is modelled after the plinth Iron Man lands on at Stark Tower moments before he suits up in the Mark 7 in the first Avengers movie. It is round and the inner edge of the plinth glows, lighting the suit from the legs upward. Finally, on the front of the base is a plaque labelled with the first Avengers movie logo.
Deposit: 25000HKD
Free shipping for HK customers.