Queens Studio OPTIMUS PRIME HUMAN-SIZE BUST (Pre Order) ES199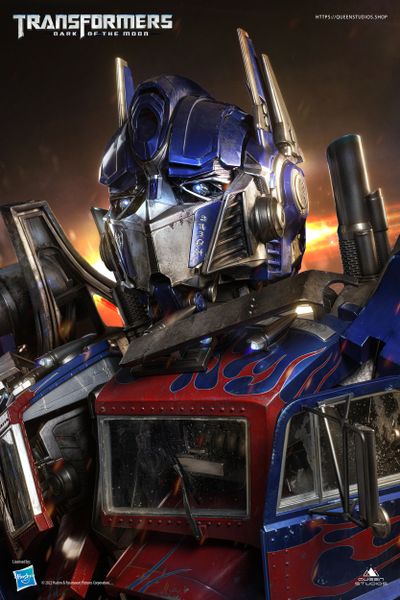 Queens Studio OPTIMUS PRIME HUMAN-SIZE BUST (Pre Order) ES199
PRODUCT INFORMATION
License: Hasbro
Product Name: Optimus Prime Human-Size Bust
*Material: Resin, PU, Acrylic
Product Size: 92cm (H) × 110cm (W) × 65cm (D)
Estimated Delivery Time: Q3 2023
Edition Size: 199
*Full list of materials will be listed on the product web page.
----------------------------------------------------
About the Character
Optimus Prime, a student of Sentinel Prime and the leader of the Cybertron science division, took it upon himself to stop the Decepticon known as Megatron in a vicious battle, a battle known as the Cybertronian War. Not much is known about this battle, all that is known is Optimus Prime and his allies were outnumbered by the Decepticons. While many of the Autobots saw the Cybertronian War as a loss, Megatron became Lord High Protector of Cybertron. This 1/1 Human-Size scale Optimus Prime bust recreates Optimus Prime as seen in Transformers: Dark of the Moon.
About the Bust 
This bust stands at 92cm tall and is 110cm wide. It presents Optimus Prime like you've never seen him before, human-size scale; this scale is like that of a person. It includes every single detail of the Autobot's torso and captures the brilliant red, blue, and brushed metal design of the Freightliner fl86. Optimus is facing leftwards and has two canons, one on each shoulder. The red paintwork resembles flames, burning across the Autobot's torso. The back of Prime is open, revealing the internal mechanisms that power his being. 
Special Features
The Optimus Prime bust includes all of the details you would expect from a Transfomers piece. Everything from the mechanical parts, to the windshield and windshield wipers have been included. In total the bust features 14 led lights scattered around the body to bring Optimus to life for your collection. 
Deposit: 11000HKD
Free shipping for HK customers