PREMIUM COLLECTIBLES: THANOS STATUE (COMICS VERSION) - <Sold out>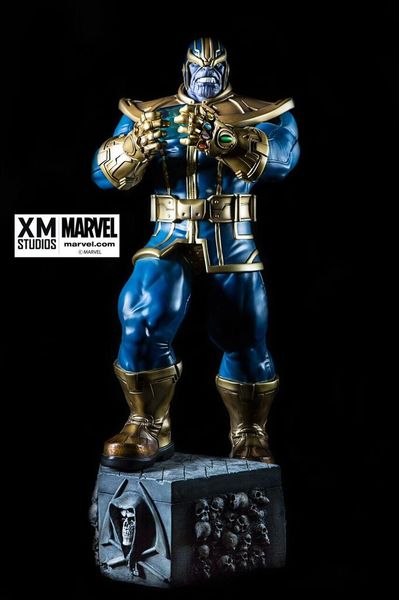 PREMIUM COLLECTIBLES: THANOS STATUE (COMICS VERSION) - <Sold out>
Premium Collectibles :Thanos ¼ scale Statue(Comics Version)
XM Studios is excited to present our next Marvel Premium Collectibles series statue,
Thanos ! The Mad Titan Thanos , brooding individual , consumed with the concept of Death, with superhuman strength ,endurance , reflexes, and agility . The amazingly detailed 1:4 scale cold-cast porcelain each painstakingly handcrafted statue stands at approximately 26 inches tall and every piece individually hand-painted with the highest possible quality finish.
License : Marvel
Scale : 1/4
Manufacture : XM Studios
Product size : 66cm H X 33cm L X 28cm B
Est. Box Size : 80.7cm H X 65.7cm L X 38.7cm B
Est. Product Weight : 17kg
Est. shipping weight : 28kg
The Thanos Premium Collectibles statue features:
Approximately 57 cm tall (head to toe)

Three (3) switch out portrait for alternate display

Three (3) interchangeable left and right arms for alternate display

- left and right hands holding cosmic cube

- left arms victory pose showing the infinity gauntlet

- left arms crunch fist show the infinity gauntlet

- right hands with open hand
· Crafted from cold-cast porcelain
Art print

specially designed by Studio Hive

Limited Silver Plated coin
· Limited edition : 999
Artists:
Studio Hive (Design and Concept)

Alejandro Pereira Ezcurra (Sculpt)

XM Studios Design and Development Team
Manufactured by: XM Studios
Note: Prototype shown and pending final approval, final product may differ slightly
Background :
Born on Titan , young Thanos was ostracized because of his hideous mutant nature. Morose and withdrawn, he became obsessed with Death. Gathering an army of mercenaries, he set out to conquer and destroy. Now infamous as the Mad Titan, Thanos's atrocities include eradicating half of the life forms in the universe with the Infinity Gauntlet.