XM 1/4 Angelus (Pre Order)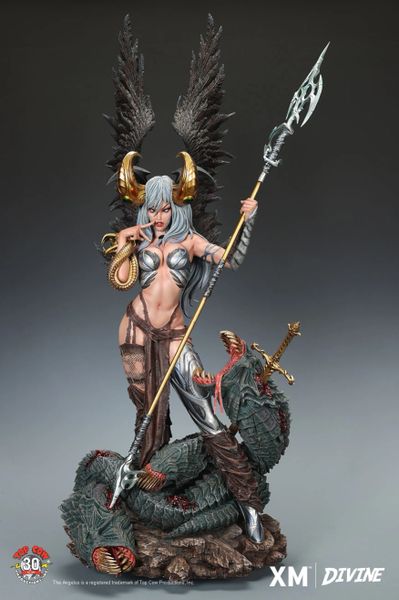 XM 1/4 Angelus (Pre Order)
XM Studios is excited to present our 2nd collaborative project with Divine! Top Cow Universe Premium Collectibles series statue, Angelus! Each painstakingly handcrafted statue is individually hand-painted with the famous XM quality finish, and comes in a bold, dynamic, and story-laden style.
As one of two primal forces of the universe, and being the embodiment and ruler of the Light, Angelus has been at war with her equal and opposite, The Darkness, since the beginning of Creation.
Here, the Embodiment of Light is seen driving her spear through a minion belonging to Darkness, in a pose that is based off comic cover (The Darkness #3). A force of light and order, she seeks to destroy anything that is dark and chaotic, while disregarding mortal rules and laws.
The Angelus entity is the embodiment and ruler of the Light. She is the equal and opposite force of The Darkness. Angelus and the Darkness are two of the most powerful entities that make up the 13 Artifacts.
Note: Prototype shown and pending final approval, final product may differ. Batteries will not be included for products with light up features due to customs.
Deposit: 3000HKD
Free shipping for HK Customers