XM 1/4 Archangel (X-Force) - Ver B w/plaque (Pre Order)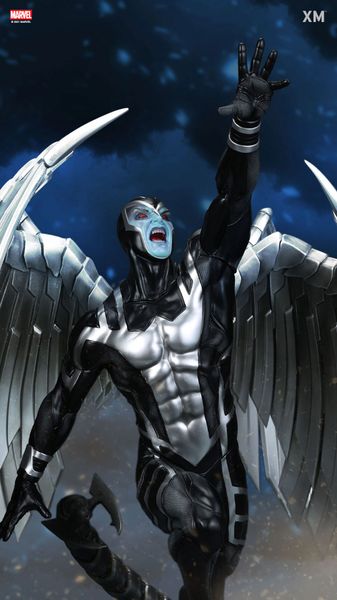 XM 1/4 Archangel (X-Force) - Ver B w/plaque (Pre Order)
XM Studios is excited to present our next 1:4 MARVEL Premium Collectibles series statue, Archangel Ver A and B!

Pre-Order opens 7 Aug 2021, Saturday 6pm (UTC+8).
Pre-Order before 21 Aug 2021, 6pm SGT (UTC+8) to receive a Archangel collectible Display Plaque as your early bird pre-order gift.

Description:

Angel was one of the original members of X-Men. He was later turned and manipulated (genetically and mentally) by Apocalypse into Death, the leader of Apocalypse's four horsemen. After the events, he has since joined the X-Men/X-Force as Archangel. However the mental scars and struggles he had from his past remained. This artwork depicts Archangel with his hands outstretched, wings poised to unfurl, seeking to break free from Apocalypse's mental and physical grasp. The base features hieroglyphics inspired elements referencing Apocalypse's presence.
Archangel comes in two versions. Ver A depicts Archangel in his iconic classic costume and the base features elements of the danger room set up. Ver B depicts Archangel with his X-Force costume.

 
Background
"Born into an extremely wealthy family, young Warren attended a prestigious East Coast boarding school where he roomed with Cameron Hodge. Warren's life changed forever the day he began sprouting wings from his shoulder blades, and he hid them under his clothes…" read more here 

Features:
3 Headsculpt switch-outs: 1 with his blonde hair revealed, 1 with his hair hidden, 1 with skull mask helmet.
Crafted in cold cast porcelain.
Each handcrafted statue is individually hand-painted with the high-quality finish.

Artists:
Rafa Sandoval (2D)
Alan Sales(Sculpt)
XM Studios Design and Development Team

Estimated Product details: 45*43*65cm, 12kg
Estimated Box Dimension and Weight: 75*67*50.5cm, 25kg
 
Manufactured by: 
XM Studios
Note: Prototype shown and pending final approval, final product may differ. Batteries will not be included for products with light up features due to customs.
Deposit: 2400HKD
Free shipping for HK customers.