XM 1/4 Batman Shugo Ver A (Samuria) - ES 499 Max (Pre Order)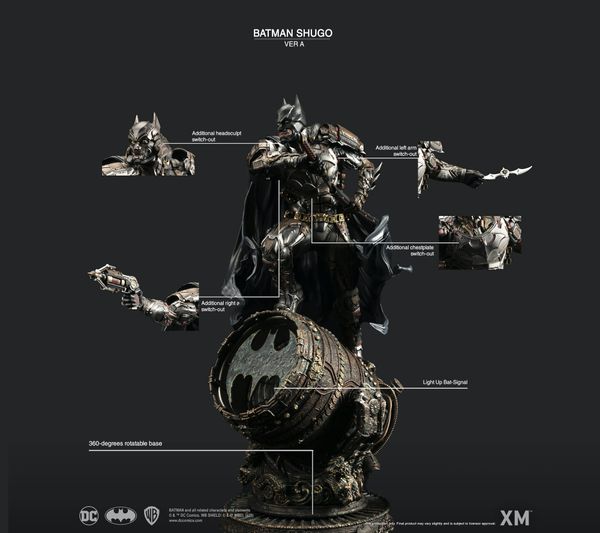 XM 1/4 Batman Shugo Ver A (Samuria) - ES 499 Max (Pre Order)
Description:
A progression from Samurai, he has now risen to take on the title of 'Shugo'. Translated as "(military) governor" or "protector", Shugo is a title given to officials in feudal Japan who ruled over territories throughout the country. Decked in an upgraded armour designed for protection, Batman Shugo stands on top of the Bat-signal, one leg forward, ready to take on the source of the distress signal.
The design and decoration of the Bat-signal draws inspiration from Japanese Ceremonial drum - Taiko. The Taikohas various functions throughout Japan's history and was also used as a means of military communication in Feudal Japan.
BATMAN SHUGO VER A Premium Collectibles statue features:
2 Head Sculpts: 1 Kabuto inspired full mask; 1 regular cowl
2 Right arms: 1 drawing katana from its scabbard, 1 wielding the grappling gun
2 Left arms: 1 holding on the scabbard, 1 holding the Batarang
2 Chestplates: 1 regular black Bat-logo, 1 Bat-logo with a slightly more technical design
Light up Bat-signal (Yellow and White light)
Rotating base which turns 360-degrees so that collectors can view the more intricate design details of the Bat-signal
Crafted from cold-cast porcelain
Each painstakingly handcrafted statue is individually hand-painted with the highest possible quality finish
Limited edition: MTO (MAX 499)
Artists:
Foo Tze Wei
Suheryanto Hatmaja (Sculpt)
XM Studios Design and Development Team

Manufactured by: 
XM Studios
Note: Prototype shown and pending final approval, final product may differ.  Batteries will not be included for products with light up features due to customs clearance.
Product and Box Dimensions
​
Product size : 41 cm L X 50 cm B X 66 cm H (estimate)
Est. Box Size : 73 cm L X 63 cm B X 55.5 cm H (estimate)
Est. Product Weight : 19 kg (estimate)
Est. shipping weight : 34 kg (estimate)
Deposit 2400HKD
Free shipping for HK customers.