XM 1/4 Batwoman (Samurai Series) - Pre Order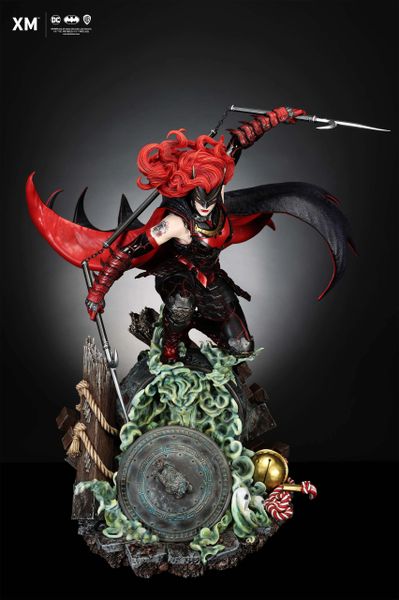 XM 1/4 Batwoman (Samurai Series) - Pre Order
Advanced Pre-Order Opens: 16 December 2022, 6pm (UTC+8)
Send in your advanced Pre-Order before 6 Jan 2023, 12pm SGT (UTC+8) to receive a collectible Display Plaque as your early bird pre-order gift! 
Do note that statue details set before 6 Jan 2023 are subject to changes.
XM Studios is excited to present the next statue from XM's unique Batman Samurai Line, Batwoman! The result of a creative collaboration between Warner Bros. Discovery Consumer Products and XM Studios to showcase the Batman universe in exciting new settings, each painstakingly handcrafted statue is individually hand-painted with XM's famous quality finish, and comes in a bold, dynamic, and story-laden style.
Landing dynamically atop a patina-encrusted Koro (incense burner) with the grace of a well-trained and agile combatant, this art statue collectible sees Batwoman displaying unwavering determination as she strikes a battle-ready pose while getting ready to engage with a familiar foe.
Emerging from the Koro in varying shades of green as it unfurls, swirling and moving, are manifestations of Scarecrow's machinations— weaponised toxins that induce intense fear within its victims. Strewn beside it amidst the rubble is a broken Suzu (bell), symbolising the imminent destruction of the hopes, dreams and wishes of the people.
This statue comes with 3 head switch-outs, a classic masked-on Batwoman, one with her full-face mask, and one with her unmasked. She also comes 5 hand/arm switch-outs, allowing collectors to feature Batwoman with various weapon options.
#DC #Batwoman
The statue features:
Three (3) head switch-outs: 1 classic masked Batwoman, 1 with a full-face mask, 1 with her unmasked
Five (5) hand/arm switch-outs: 3 on the left and 2 on the right
One (1) highly detailed sculpt featuring Batwoman
Crafted in Polystone
Each painstakingly handcrafted statue is individually hand-painted with the highest possible quality finish
Artists:
Adam Fisher (3D)
XM Studios Design and Development Team
Manufactured by:
XM Studios
Note: Prototype shown and pending final approval, final product may differ. Batteries will not be included for products with light up features due to customs.
Product and Box Dimensions
Est. Box Size: 52*52*73cm
Est. Product Weight: 18kg
Est. Shipping 20kg
Deposit: 3000HKD
Free shipping for HK customer