XM 1/4 Beast w/plaque (Pre Order)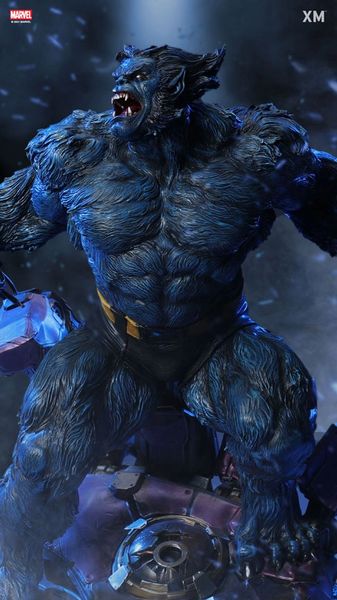 XM 1/4 Beast w/plaque (Pre Order)
XM Studios is excited to present our next 1:4 MARVEL Premium Collectibles series statue, Beast!

Pre-Order opens 29 May 2021, Saturday 6pm (UTC+8).
Pre-Order before 12 June 2021, 6pm SGT (UTC+8) to receive a Beast collectible Display Plaque as your early bird pre-order gift.

Background
"While working at a nuclear power plant, Norton McCoy was exposed to massive amounts of radiation that affected his genes. As a result, Norton's son, Henry "Hank" McCoy, was born a mutant who showed the signs of his being different from birth with his unusually large hands and feet. As a youth, Hank's freakish appearance was the subject of much ridicule from his classmates, earning him the nickname of "Beast"…" read more at https://www.marvel.com/characters/beast-henry-mccoy

Features:
Arms outstretched, muscles rippling, one can almost hear his roar as Beast unleashes his raw power, ripping apart Sentinel's joints with ease.
2 head sculpt switch-outs: 1 with glasses, 1 without glasses.
Crafted in cold cast porcelain.
Each handcrafted statue is individually hand-painted with the high-quality finish.

Artists:
Riccardo Federici (2D)
Maria Panfilova (Sculpt)
XM Studios Design and Development Team

Estimated Product details: 38*26*44cm, 10kg
Estimated Box Dimension and Weight: 66*57*23.5cm, 20kg
Deposit : 2400HKD
Free shipping for HK customers