XM 1/4 Venomized Hulk Ver.B (Pre-Order)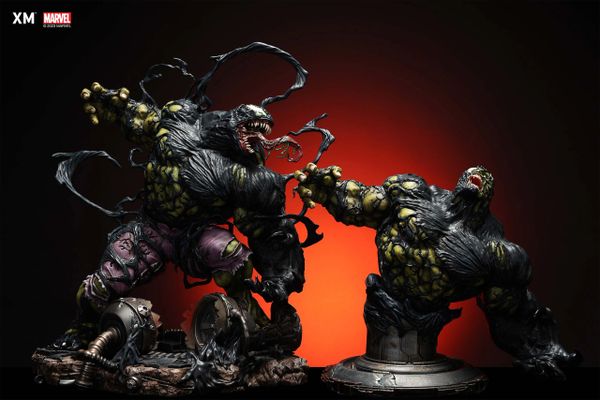 XM 1/4 Venomized Hulk Ver.B (Pre-Order)
XM Studios is excited to present our next 1/4 scale MARVEL Premium Collectibles series statue, Venomized Hulk. Each painstakingly handcrafted statue is individually hand-painted with XM's famous quality finish, and comes in a bold, dynamic, and story-laden style.
A companion piece to Absolute Carnage 1/4 scale, Venomized Hulk stands on Bruce Banner's destroyed lab as he prepares to throw a punch at Absolute Carnage. Venom's tendrils are strewn across Hulk's body as the symbiote bonds with him, only succeeding in transforming his head, part of his body, left arm, and right foot due to his sheer size.
Venomized Hulk is seen in a raging battle mode, with tendrils snaking around him, elevating his powerful stance. His muscular physique is clearly defined and articulated through the interplay between shadows and highlights.
Comes in 2 versions; Version A shows a transformed Venomized Hulk, while Version B comes with an additional switch out torso showcasing Venomized Hulk transformation.
Collectors can choose to display him standalone, or facing Absolute Carnage to depict the battle scene.
Character Background
Venom, the sentient alien symbiote, bonds with Hulk as they join forces to defeat Carnage.
Version B features:

·        Two (2) torsos: 1 Venomized Hulk torso, 1 Venomized Hulk Transformation torso
·        Highly detailed sculpt featuring Venomized Hulk standing on Bruce Banner's destroyed lab
·        Crafted in Polystone·        Each painstakingly handcrafted statue is individually hand-painted with the highest possible quality finish
·        ES: MTO Max 299
Artists:
InHyuk Lee (2D)
Julian Khor (3D)
XM Studios Design and Development Team
Manufactured by:
XM Studios
Note: Prototype shown and pending final approval, final product may differ. Batteries will not be included for products with light up features due to customs.
Product and Box Dimensions
Est Product Size: Version B - 65x45x70cm & 57x36x56cm (additional torso)
Est. Box Size:  98*70*27cm
Est. Product Weight: Version B - 27kg
Est. Shipping Weight: 30kg
Deposit: 5400HKD
Free shipping for HK customers