XM 1/6 Doomsday (Pre Order)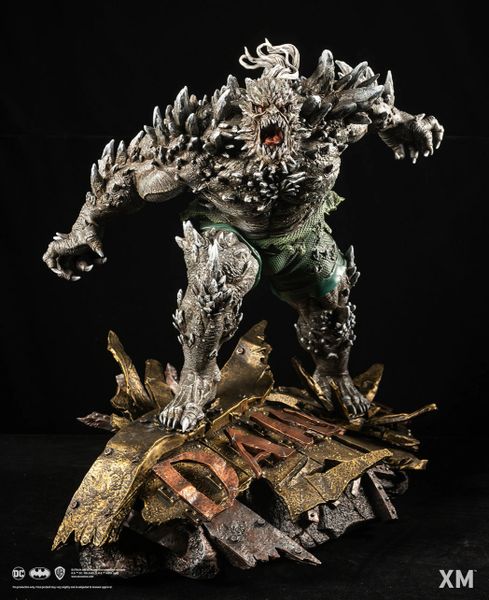 XM 1/6 Doomsday (Pre Order)
Pre-Order Opens: 22 Apr 2022, 6pm (UTC+8)
Pre-Order before 5 May 2022, 12pm SGT (UTC+8) to receive a collectible Display Plaque as your early bird pre-order gift!
Presenting the next in line from XM's DC Comics 1:6 scale premium collectibles line, Doomsday! The Doomsday 1:4 scale was released prior and we are now releasing the 1:6
scale!
The XM DC 1:6 line is specially designed for collectors who desire space-friendly collectibles, without compromising on the exquisite details and the quality of larger collectible pieces. Don't miss out on this highly detailed Kryptonian monster! One of Superman and Justice League's deadliest foes, this statue depicts Doomsday's attack on Metropolis. Stepping on the fallen signage of the Daily Planet, the Kryptonian monster unleashes his bestial rage and destructive instincts.
Description:
"A weapon crafted in the most extreme conditions imaginable, Doomsday is an ultimate and unstoppable force of destruction and devastation."
Features:
Crafted in polystone
Each handcrafted statue is individually hand-painted with the high quality finish
Artists Involved:
Riccardo Federici
Tiago Rios (Sculpt)
XM Studios Design and Development Team

Manufactured by: 
XM Studios
Note: Prototype shown and pending final approval, final product may differ. Batteries will not be included for products with light up features due to customs.
Product and Box Dimensions
​
Estimated Product Size (LxBxHt): 32*44*44cm
Estimated Product Weight : 8 kg 

Estimated Box Size (LxBxHt): 62*59*35cm
Estimated Shipping Weight : 11 kg 
Deposit: 2400HKD
Free shipping for HK customers