XM 1/10 Bumblebee (Pre Order) - Deposit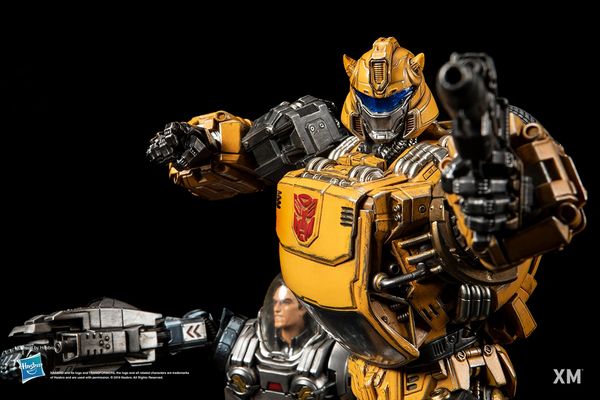 XM 1/10 Bumblebee (Pre Order) - Deposit
XM Studios is excited to present our next Transformers Premium Collectibles series statue, Bumblebee! Immortalized in amazingly detailed 1:10 scale cold-cast porcelain, each painstakingly handcrafted statue is individually hand-painted with the famous XM quality finish. Crafted from scratch, every nut, bolt and wire is lovingly designed and sculpted ground up by a team in mad love with the Transformers G1 era of cartoons. Inspired by one of our childhood favorite 80s cartoons, we took the G1's iconic form design and XMized them with modern details, to better fit in today's expectations of sophisticated robotry designs. We have spared no effort and designing these original pieces took our core team almost 2 years, resulting in an amazing balance of retro beauty with sleek modern details. What's a transformer without it's alternate mode? Yes, this statue comes with a companion statue, the vehicle mode so collectors can enjoy the beauty of both bot and alternate mode at the same time!
Description: 
Part of the Autobot army on Cybertron and Earth, Bumblebee is one of the smallest Autobots. Brave and friendly, he befriends humans easily. One such human is Spike Witwicky, his best friend and one of autobots human allies.
The Bumblebee Premium Collectibles statue features:
Bumblebee with Spike in exo suit, fighting side by side!

Two (2) headsculpt for Bumblebee - 1 with battle mask and 1 without

One (1) Bumblebee vehicle mode

Light up eyes for Bumblebee

Cybertron theme inspired base

Crafted from cold-cast porcelain

Limited edition : MTO
Artists:
Kingston Chan, Studio HIVE 

Christophe Lacaux, Suheryanto Hatmaja (Sculpt)

XM Studios Design and Development Team
Manufactured by:
XM Studios
Note: Prototype shown and pending final approval, final product may differ. Batteries will not be included for products with light up features due to customs clearance.
---
Est Box Size: 79 cm L x 54 cm B x 24 cm H 
Est Box Weight: 19kg
Bumblebee Specifications
Est Product Size: 32 cm L x 48 cm B x 40 cm H
Est Product Weight: 9kg
Vehicle Mode Specifications
Est Product Size: 25 cm L x 10 cm B x 9 cm H 
Est Product Weight: 1.3kg
Deposit 3000HKD
Free shipping for HK customers.