XM 1/10 Grimlock - Pre Order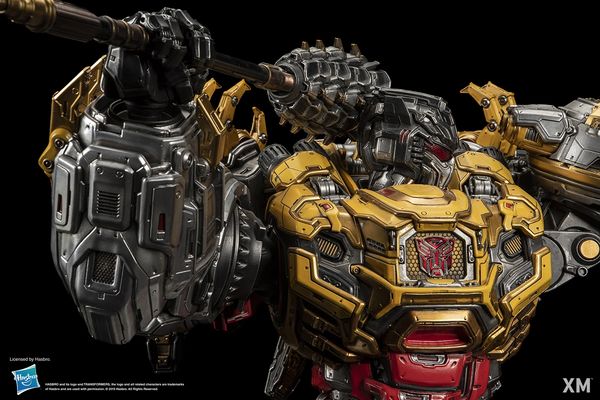 XM 1/10 Grimlock - Pre Order
XM Studios is excited to present our next Transformers Premium Collectibles series statue, Grimlock! Immortalized in amazingly detailed 1:10 scale cold-cast porcelain, each painstakingly handcrafted statue is individually hand-painted with the famous XM quality finish. Crafted from scratch, every nut, bolt and wire is lovingly designed and sculpted ground up by a team in mad love with the Transformers G1 era of cartoons. Inspired by one of our childhood favorite 80s cartoons, we took the G1's iconic form design and XMized them with modern details, to better fit in today's expectations of sophisticated robotry designs. We have spared no effort and designing these original pieces took our core team almost 2 years, resulting in an amazing balance of retro beauty with sleek modern details. What's a transformer without it's alternate mode? Yes, this statue comes with a companion statue, the vehicle mode so collectors can enjoy the beauty of both bot and alternate mode at the same time!
 
Description: 
Leader of the Dinobots, Grimlock is one of the strongest of the transformers. Powerful, fearsome and merciless, Grimlock chose to fight alongside the autobots.

The Grimlock Premium Collectibles statue features:
Two (2) Right Arm - 1 holding his sword, 1 holding a spiked mace  
Two (2) Left Arm - 1 holding blaster, 1 left arm 
One (1) Grimlock in his dinosaur (Tyrannosaurus Rex) mode 
Light up Eyes for Grimlock
Cybertron theme inspired base
Crafted from cold-cast porcelain
ES: 399
Artists:
Andrew Griffith, Suheryanto Hatmaja
Frederic Daoust (Sculpt)
XM Studios Design and Development Team

Manufactured by:
XM Studios
Note: Prototype shown and pending final approval, final product may differ. Batteries will not be included for products with light up features due to customs clearance.
---
Box Dimensions
Box A
Est Box Size: 82 cm L x 72 cm B x 32 cm H 
Est Box Weight: 34kg
Box B
Est Box Size: 82 cm L x 62 cm B x 39 cm H 
Est Box Weight: 29kg
Box C
Est Box Size: 82 cm L x 52 cm B x 37 cm H 
Est Box Weight: 27kg
Product Specifications
Est Product Size: 105 cm L x 80 cm B x 80 cm H
Est Product Weight: 47kg
Vehicle Mode Specifications
Est Product Size: 25 cm L x 38 cm B x 17 cm H 
Est Product Weight: 1.5kg
Free Shipping for HK Customers . Deposit : 4800HKD