XM 1/4 Ultron (Pre Order) - Sold Out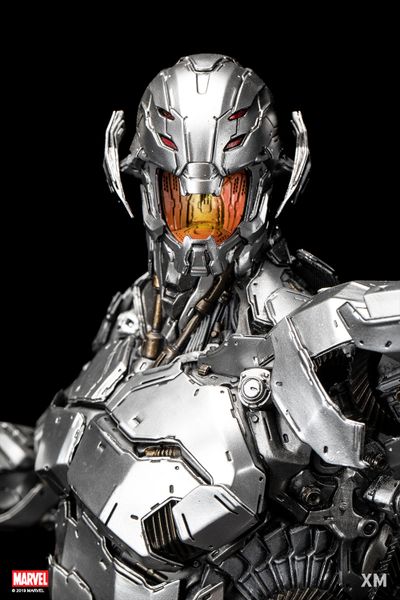 XM 1/4 Ultron (Pre Order) - Sold Out
XM Studios is excited to present our next Marvel Premium Collectibles series statue, Ultron! The nemesis of Avengers is immortalized in amazingly detailed 1:4 scale cold-cast porcelain. Each painstakingly handcrafted statue is individually hand-painted with the highest possible quality finish. Don't miss out on adding Ultron to your Avengers collection!
Background:
Ultron was created by the original Ant-Man, Doctor Henry "Hank" Pym. Dr. Pym also founded the Avengers with his wife, Janet van Dyne (AKA the Wasp), whom Ultron would come to consider a mother. Inspired by his studies of Professor Gregson Gilbert's synthetic being Dragon Man, Pym began experimenting with artificial intelligence. After building a structurally crude robot (a torso on tank treads with spindly arms), Pym endowed it with consciousness, using a copy of his own brain patterns as the basis for the robot's programming. However, the robot inherited not only Pym's great intellect, but his inherent mental instability—only without a human conscience… read more at https://www.marvel.com/characters/ultron/in-comics
The Ultron Premium Collectibles statue features:
Showcasing Ultron constructing his additional arms, gathering the necessary elements from the debris at his feet as he upgrades into Ultron Prime.

Three (3) Interchangeable hands that fits all 3 arms for ultimate dynamic display.

Detailed and intricate design of Ultron's outer armor.

Light-up eyes

Crafted from cold-cast porcelain 

Limited edition : MTO

Art print by Foo Tze Wei 
Artists:
Foo Tze Wei (Illustrator, Design and Concept Collaboration with XM Studios)

Marco Plouffe (Sculpt)

XM Studios Design and Development Team

Manufactured by: 
XM Studios
Note: Prototype shown and pending final approval, final product may differ. Batteries will not be included for products with light up features due to customs.
Product size : 37 cm  L X 28 cm B X 62 cm H
Est. Box Size : 66 cm L X 54 cm B X 22 cm H
Est. Product Weight : 9.5 Kg
Est. shipping weight : 18 kg
Deposit 2400HKD
 Free shipping for HK customers.