XM 1/6 Batman Hush (Pre Order)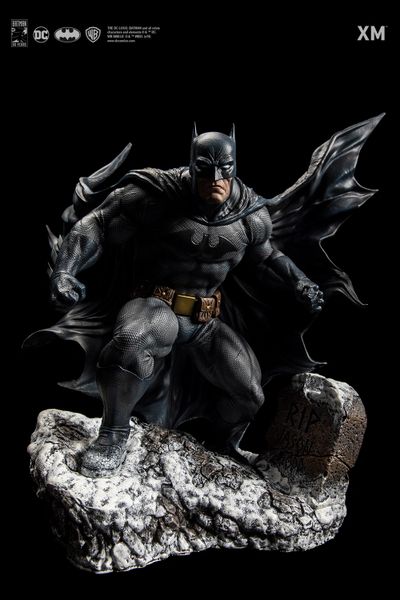 XM 1/6 Batman Hush (Pre Order)
Batman 1:6 Iconic Cover Art is a new XM line where we release 1:6 Batman statues based on iconic cover art of Batman comics throughout the years. To celebrate 80 years of Batman, we are rolling out Batman: Hush! Inspired by the cover art for Batman: Hush Vol 2 in the early 2000s. This is definitely a must-have to add to your Batman collection.
Size matters, but Quality even more so! The new XM DC 1:6 line is specially designed for collectors who desire more space-friendly collectibles, without compromising on the incredible details and quality of larger collectible pieces. At 1:6 scale, XM's creative direction is to showcase more abilities, powers and essence of the characters in a bold, dynamic and story telling style. The new XM 1:6 DC line will amaze you with the details you don't expect at this scale. Smaller scale, smaller boxes, more affordable shipping and pricing means you can fit more of these incredibly detailed collectibles into your collection! 
Description:
About Batman: Hush "In this story of murder, mystery and romance, Batman sets out on a simple mission to discover the identity of the mysterious villain wreaking havoc in his life known as Hush."… find out more at https://www.dccomics.com/graphic-novels/batman-1940/batman-hush
Batman: Hush Premium Collectibles statue features:
Crafted in cold cast porcelain

Each painstakingly handcrafted statue is individually hand-painted with the highest possible quality finish

ES: Made-to-order (MTO) 
Artists:
Marthin Agusta Simny (Sculpt) 

XM Studios Design and Development Team

Manufactured by: 
XM Studios
Note: Prototype shown and pending final approval, final product may differ. Batteries will not be included for products with light up features due to customs.
Product and Box Dimensions
Product size : 32 cm L X 22 cm B X 36 cm H (estimate) 
Est. Box Size : 65 cm L X 48 cm B X 24.5 cm H (estimate)  
Est. Product Weight : 4.5 kg (estimate)
Est. shipping weight : 11 kg (estimate)
Free shipping for HK customers.
Deposit 2000HKD