XM 1/6 Superman - Rebirth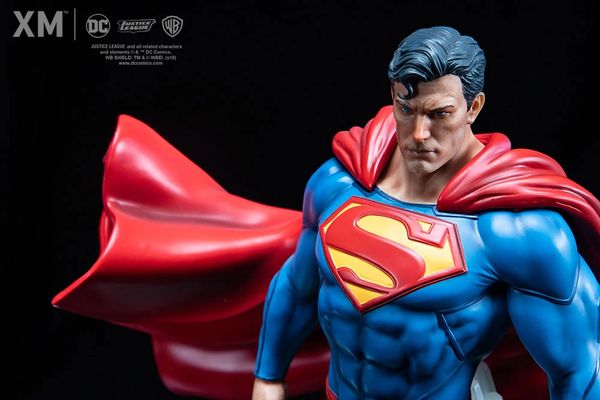 XM 1/6 Superman - Rebirth
XM Studios is excited to present our next 1:6 DC Premium Collectibles DC Rebirth series statue, Superman! The Man of Steel is immortalized in amazingly detailed 1:6 scale cold-cast porcelain. Each painstakingly handcrafted statue is individually hand-painted with the famous XM quality finish.
Size matters, but Quality even more so! The new XM DC 1:6 line is specially designed for collectors who desire more space-friendly collectibles, without compromising on the incredible details and quality of larger collectible pieces. At 1:6 scale, XM's creative direction is to showcase more abilities, powers and essence of the characters in a bold, dynamic and story telling style. The new XM 1:6 DC line will amaze you with the details you don't expect at this scale. Smaller scale, smaller boxes, more affordable shipping and pricing means you can fit more of these incredibly detailed collectibles into your collection! 
Description:
Faster than a speeding bullet, more powerful than a locomotive… The Man of Steel fights a never-ending battle for truth, justice, and the American way. From his blue uniform to his flowing red cape to the "S" shield on his chest, Superman is one of the most immediately recognizable and beloved DC Super Heroes of all time. The Man of Steel is the ultimate symbol of truth, justice, and hope. He is the world's first Super Hero and a guiding light to all.
The Superman (Rebirth) Premium Collectibles statue features:
Crafted from cold-cast porcelain

Details and Textures in stunning details even at 1:6 scale

Switch out Portrait, calm vs enraged (heat vision) 

Limited edition : MTO but capped to maximum of 1,200 worldwide
Artists:
Studio Hive and XM Design Team (Concept)

Alan Sales (Sculpt)

XM Studios Design and Development Team

Manufactured by: 
XM Studios
Note: Prototype shown and pending final approval, final product may differ.
Product and Box Dimensions
​
Product size : 30 cm L X 31 cm B X 46 cm H (estimate)
Est. Box Size : 53.5 cm L X 44.5 cm B X 36 cm H (estimate)  
Est. Product Weight : 5.5 kg (estimate)
Est. shipping weight : 10 kg (estimate)
Free shipping for HK and Macau customers.
Deposit 1500HKD