XM 1/4 "One Punch man" Saitama - sold out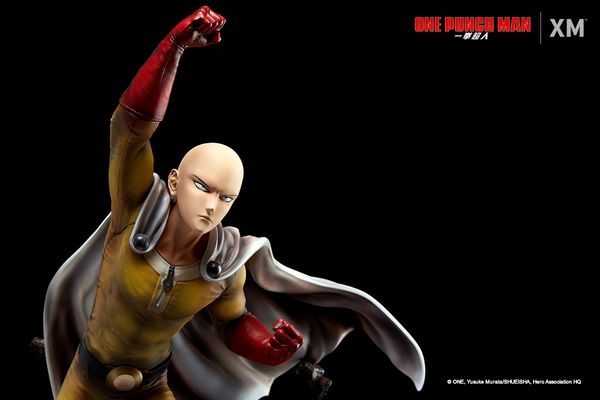 XM 1/4 "One Punch man" Saitama - sold out
XM Studios is excited to present Saitama from the hit Anime One Punch Man in 1:4 scale Cold Cast Porcelain! We may not be able to do 100 push ups, 100 sit ups, 100 squats and run 10 km everyday but we love Saitama Sensei so much we are giving him the XM 1/4 Cold Cast treatment! Staying close to the Anime source as directed by the franchise owner, this scene is lifted from Season 1, Episode 7 where Saitama punches out of a meteor to save City Z!
While keeping the pose simple and iconic (easier to fit in most display setups), we applied some minor 'XMization' in the form of color application. Instead of the usual bright cel anime inspired colors, we gave this piece a more realistic, gritty, weathered paint application along with suit and glove textures. Of course, Saitama also comes with his lovable 'ok' portrait as well!
Decked in yellow and red, Saitama Sensei is sure to stand out as a conversation piece among your 1/4 super heroes collection - he is the most OP of them!
Background:
Saitama is a guy who's a hero for fun. After saving a child from certain death, he decided to become a hero and trained hard for three years. Though he's now so strong he can defeat any opponent with a single punch, lately he feels as if, in exchange for overwhelming power, he's lost something even more important.
The Saitama Premium Collectibles statue features:
Two (2) interchangeable head sculpts; determined and comically bewildered.

Crafted from cold-cast porcelain

Each painstakingly handcrafted statue is individually hand-painted with the highest possible quality finish.

Limited edition: MTO (Max 299)
Artists:
Giacinto Platania and XM Design Team (Concept)

Giacinto Platania (Sculpt)

XM Studios Design and Development Team

Manufactured by: 
XM Studios
Note: Prototype shown and pending final approval, final product may differ.
Product and Box Dimensions
​
Product size : 45 cm L X 40 cm B X 60 cm H (estimate)  
Est. Box Size : 72 cm L X 60 cm B X 30 cm H (estimate)  
Est. Product Weight : 16 kg (estimate)
Est. shipping weight : 22 kg (estimate)
Deposit 2400HKD
Free shipping for HK and Macau customers.