XM DC 1/4 Red Death - Ver A (Pre Order) <Procurement Service>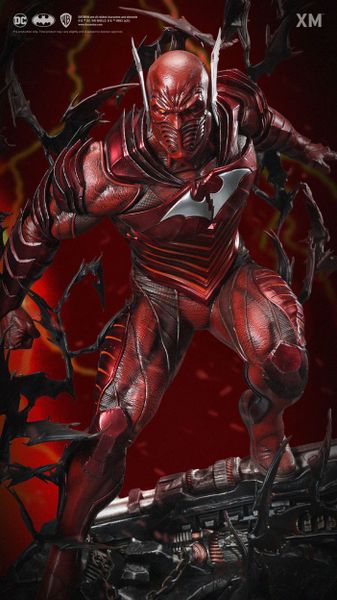 XM DC 1/4 Red Death - Ver A (Pre Order) <Procurement Service>
Pre-Order Opens: 28 Oct 2021, 6pm (UTC+8)
Pre-Order before 11 Nov 2021, 12pm SGT (UTC+8) to receive a collectible Display Plaque as your early bird pre-order gift!



Presenting the next in line from XM's DC Comics Dark Nights: Metal Line 1:4 scale premium collectibles line, RED DEATH!

The Red Death art statue collectible immortalise the nightmarish and iconic birth of Red Death in the Dark Nights: Metal series. The Batman from Earth -12, driven to extremes by his insanity and grief as he failed to save his world, chains The Flash on to the hood of his Batmobile (modified to take on the cosmic treadmill powers), and drives himself and The Flash into the Speed Force. This metamorphosing the two into one. The Flash took a backseat, trapped in Bruce's consciousness and body, while Bruce takes on The Flash's abilities. With that, Red Death was born.

Red Death's paint and sculpt application fuses to give a distressed and wicked quality to his costume. He emerges from the metamorphosis, on the top of the damaged Batmobile.
Comes in lightning red and gold versions, the distressed and wicked look of Red death's costume:
Ver A Red Version of Red Death depicts Red Death with Bruce at the helm, comes with a switch-out headsculpt of Bruce.
Ver B, Gold Version symbolises the return of Barry Allen as he takes back control of his consciousness.

Features:
2 Headsculpt: 1 of a masked Red Death, 1 of unmasked Bruce.
Crafted in polystone.
Each handcrafted statue is individually hand-painted with high quality finish

Artists Involved:
Riccardo Federici (2D)
Paul Tan, Joshua Wu (3D)
XM Studios Design and Development Team

Manufactured by: 
XM Studios
Note: Prototype shown and pending final approval, final product may differ. Batteries will not be included for products with light up features due to customs.
Product and Box Dimensions
​
Estimated Product Size (LxBxHt): 36*48*63cm
Estimated Product Weight : 15 kg 

Estimated Box Size (LxBxHt): 80*60*36cm
Estimated Shipping Weight : 25 kg 
Deposit: 2400HKD
Free shipping for HK customers.