XM Godzilla 2001 Bust (Pre Order)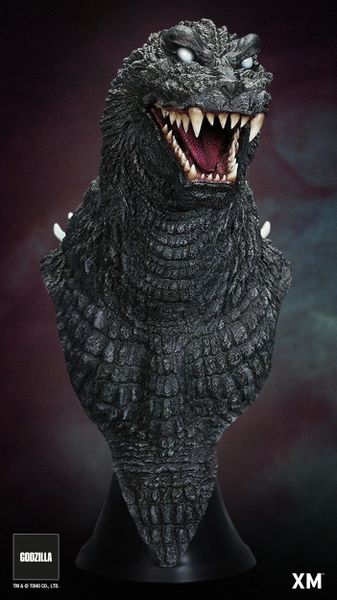 XM Godzilla 2001 Bust (Pre Order)
Description:
 
XM Studios is excited to present our first Godzilla release, starting with Godzilla 2001 Bust!
The designs are conceptualized and interpreted by XM Studios, together with acclaimed illustrator and sculptor Tanaka Kenichi, who is the 2D and 3D artist for this first XM release.
Background of Godzilla 2001
Godzilla 2001 is the third incarnation of Godzilla to appear in the Millennium series of films. This incarnation from the Godzilla, Mothra and King Ghidorah: Giant Monsters All-Out Attack, also known as GMK, was raised from the dead by the restless souls of the victims in World War II. Harboured with hatred and vengeance, Godzilla is an evil apparition and manifestation of pure hatred.
XM's interpretation of the Godzilla 2001 stays true to the concept behind suitmation in the original Japanese films. Each scale, crease and fold are individually sculpted and hand-painted with jagged texture to create the realistic look of Godzilla. Muscular eyebrows and milky pupil less eyes add to the malicious and evil portrayal. The ferocious, threatening expression is further articulated through the details of the mouth, with the teeth individually sculpted with realistic worn out bone white application and textured tongue.
The base for the bust is kept plain and simple to draw the attention to the intricate details of the bust design. A plaque with the name of the film is embossed on the back of the bust. 

Features:
Crafted in Polystone
Each handcrafted statue is individually hand-painted with the high-quality finish

Artists:
Tanaka Kenichi
XM Studios Design and Development Team

Estimated Product details: 30*77*60cm, 8kg
Estimated Box Dimension and Weight: 85*50*90cm, 13kg
 
Manufactured by: 
XM Studios
Note: Prototype shown and pending final approval, final product may differ. Batteries will not be included for products with light up features due to customs.
Deposit: 4800HKD
Free shipping for HK customers