XM Nemesis Prime (XM Exclusive) - Pre Order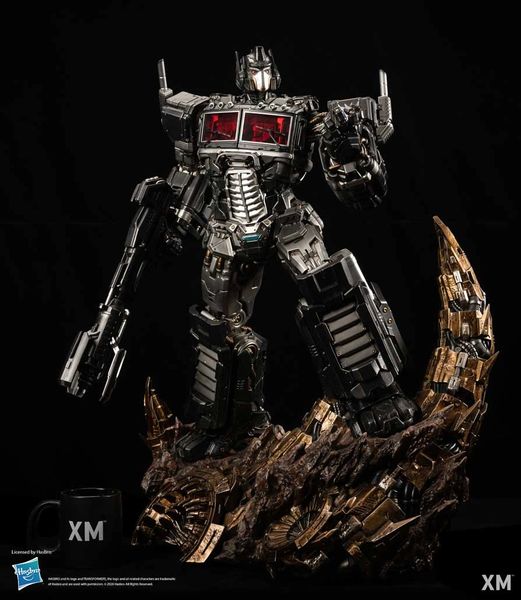 XM Nemesis Prime (XM Exclusive) - Pre Order
XM Studios is excited to present our next Transformers Premium Collectibles series statue, the evil clone of Optimus Prime: Nemesis Prime! Each handcrafted statue is individually hand-painted with the quality finish. Crafted from scratch, every nut, bolt and wire is lovingly designed and sculpted ground up by a team in mad love with the Transformers G1 era of cartoons. Inspired by one of our childhood favorite 80s cartoon, we took the G1's iconic form design and XMized them with modern details, to better fit in today's expectations of sophisticated robotry designs. We have spared no effort and designing these original pieces took our core team almost 2 years, resulting in an amazing balance of retro beauty with a sleek modern details.
 
Transformers Fans, You can't miss this one out!
Pre-Order Opens: 21 Nov, 6pm (UTC+8)
Pre-Order before 25 Nov 2020, 12noon SGT (UTC+8) to receive a collectible Display Plaque of the featured character as your early bird pre-order gift!
The Nemesis Prime Premium Collectibles statue features:
2 Right Arms: 1 holding Energon Axe, 1 holding Blaster
Light up Chest and Eyes!
Alternate Mode - the iconic Freightliner FL86 cab over semi truck!
Unicron theme inspired base
Crafted from cold-cast porcelain
ES: MTO (Max 600)
Artists:
Foo Tze Wei
Suheryanto Hatmaja, Marthin Agusta Simny (Sculpt)
XM Studios Design and Development Team

Manufactured by:
XM Studios
Note: Prototype shown and pending final approval, final product may differ. Batteries will not be included for products with light up features due to customs clearance.
---
Product and Box Dimensions
​
Product size (Nemesis Prime) : 56 cm L X 46 cm B X 69 cm H (estimate) 
Product size (Truck) : 36 cm L X 25.6 cm B X 21 cm H (estimate) 
Est. Product Weight (Nemesis Prime + Truck): 30 kg (estimate)

Est. Box Size : 70 cm L X 68 cm B X 62.5cm H (estimate)
Est. Shipping weight : 49 kg (estimate)
Deposit: 4800HKD
Free shipping for HK customers