XM Ultraman Bust (C Type) 60cm (Pre Order)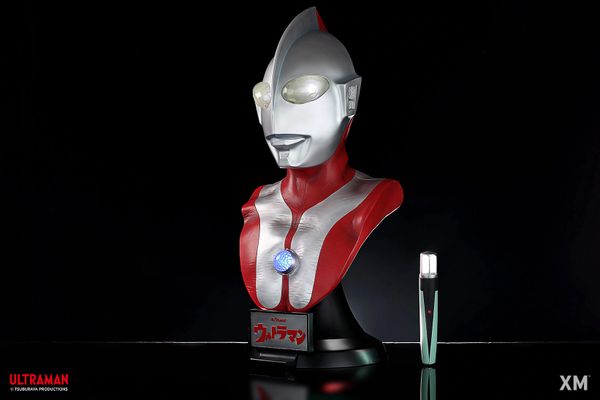 XM Ultraman Bust (C Type) 60cm (Pre Order)
Description:
 
XM Studios is excited to present our second Ultraman release, the Ultraman (C Type) 60 cm bust!
This design has been conceptualized and interpreted by XM Studios with acclaimed sculptor Yoshiki Fujimoto(藤本圭紀), who was also the 3D artist for our first Ultraman (C Type) statue. Each painstakingly handcrafted statue is individually hand-painted with the famous XM quality finish, and comes in a bold, dynamic, and story-laden style.
XM's interpretation of the Ultraman (C Type) stays true to the concept behind suitmation in the original Japanese episodes. Each crease and fold is individually sculpted and hand-painted to create the realistic look of form-fitting latex suit. Special care has been taken by Yoshiki Fujimoto and the XM Art Team to reproduce these creases during the sculpting process. The eyes light up and Color Timer on the chest features sequential lighting with blue indicating Ultraman is at full strength and red when energy gets low.
The Ultraman (C Type) 60cm bust also comes with Beta Capsule, a transformation item Hayata uses to turn into Ultraman. The Beta Capsule's cap lights up when the red ignition button is pressed.
The base for the bust is kept clean and simple to draw attention to the intricate details of the bust design.
On the front, a plaque with Ultraman is embossed, with a holder for Beta Capsule.
Character Background
Ultraman is an alien of justice who came to Earth as an Inter Galactic Defense Force member from Nebula M78 Land of Light. After crashing with Science Special Search Party (SSSP) member Shin Hayata, Ultraman merged his life with Hayata's and decided to stay and fight for the peace of the Earth.
Alien Zetton invades earth wreaking havoc and causing destruction. Hayata transforms into Ultraman for one last time as he defends the SSSP base. Taking up a defensive pose, this scene pays homage to the final moments before Ultraman is overwhelmed by the Space Dinosaur Zetton with its ability to teleport and produce electromagnetic barriers immune to Ultraman's Ultra Slash. At the end, it defeats Ultraman by reflecting Ultraman's signature move, the "Spacium Beam".
Nevertheless, right after the defeat of Ultraman, SSSP member Arashi shot a prototype pencil bomb created by Professor Iwamoto to Zetton and defeated it.

The Ultraman Bust (C Type) Premium Collectible Statue Features:
Highly detailed sculpt of Ultraman bust 60cm
Sequential lighting for chest (Colour Timer)
Light up features for eyes
Beta Capsule with lighting feature
Crafted in polystone
Each painstakingly handcrafted statue is individually hand-painted with the highest possible quality finish

Artists:
藤本圭紀(YOSHIKI FUJIMOTO)
XM Studios Design and Development Team

Estimated Product details: 33*34*72, 17kg
Estimated Box Dimension and Weight: 72*72*36, 20kg
Manufactured by: 
XM Studios
Note: Prototype shown and pending final approval, final product may differ. Batteries will not be included for products with light up features due to customs.
Deposit: 3000HKD
Free shipping for HK customers