Oniri Creation 1/6 HxH GON VS HISOKA – BATTLE AT THE HEAVENS ARENA (Sold out)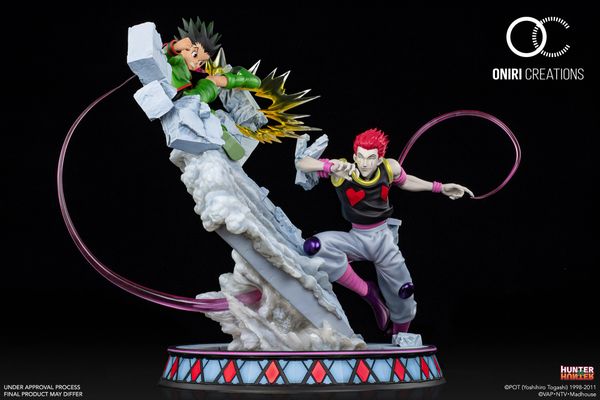 Oniri Creation 1/6 HxH GON VS HISOKA – BATTLE AT THE HEAVENS ARENA (Sold out)
For our first project on the Hunter x Hunter license, we chose to represent through a diorama the epic fight between Gon and Hisoka during the Heavens Arena Arc.
Made in 1/6th scale, the statue is limited to only 800 copies and will be delivered with its certificate of authenticity.
DESCRIPTION
Ready to do battle for their second showdown, Gon and Hisoka are going at each other in this superb diorama made entirely in resin (Polyresin, and Polyurethane resin). Our two protagonists are most faithfully reproduced, both in sculpture and painting, in particular thanks to a constant collaboration with the licensors throughout the creation process. We use different levels of resin opacity depending on the parts. From "clear" (100% transparent) for the effects of attacks, to opaque for the body and base, including semi-translucent for the skin. Although Gon and Hisoka are the main event, special attention has been paid to the base. Taking the logo of the Hunters card, it is not a simple base. Each diamond was cut and printed separately to ensure real sharpness for the paint rendering. We have put all our know-how to deliver to you the ultimate piece for the Hunter x Hunter license.
SPÉCIFICATION
DIMENSIONS

H45 x W40 x D30

 

LICENSE

Hunter x Hunter

SCALE

1/6

 

SCULPTOR

Pierre-Marie Albert

ESTIMATED DELIVERY

Q4 2021

 

PAINTERS

Kevin Ferrer, Logan Lebailly

CONCEPT

Oniri Creations

 

ARTISTIC SUPERVISION

Romain Lapi

Free Shipping for HK Cutomers




Deposit 2300HKD.