XM 1/3 Iron Man Prestige Series – Regular Edition (Pre-Order)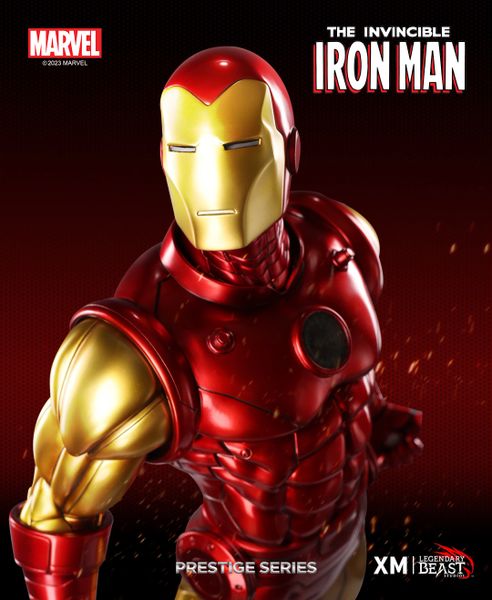 XM 1/3 Iron Man Prestige Series – Regular Edition (Pre-Order)
Legendary Beast Studios in collaboration with XM Studios is proud to present the Armored Avenger, IRON MAN as the latest addition to the exciting Prestige Series of 1/3 scale polystone statues.
Background:
Hailed as "the Da Vinci of Our Time", Tony Stark built his first Iron Man suit from nothing but spare parts - to save himself from a severe chest injury and to escape from his kidnappers. He has since then improved and developed more suits, adding more functions and technological advances with each new version.
Genius, Billionaire, Playboy, Philanthropist - Iron Man is also a founding member and one of the heads of the Avengers.
Rounding out the "Big Three" Avengers in the 1/3 scale format, Iron Man is shown in a heroic pose as he prepares for battle. Atop his Gantry at Stark Laboratories, Tony tries out his armor's various functions as he suits-up for his next mission.
Regular Edition Features:
• Pentagon Shape Base with Evolution of Iron Man Armor Suit around every side.
• 1x Classic Torso
• 1x Classic Helmet looking up (lighted)
• 1x Classic Helmet looking forward with eyes visible
• 1x Open Face Plate Classic Helmet
• 1x Right Arm on the body side
• 1x Right Arm blasting forward
Artists:
• Jay Sia (Concept Design)
• Alex Malveda (Sketch Design)
• Ryan Serrano (Sculpt)
• Allan Macedo (Sculpt)
Manufactured by:
XM Studios
Quality Assurance and Engineering by:
Legendary Beast Studios
• Note: For any product support matters (including but not limited to product issues, defects, touch up and repair services), please email customer.care@legendarybeaststudios.com
Product Measurement:
Item Size (Height x Width x Length)
• 85cm H x 44cm W x 46cm L
• 33.5 inches H x 17.2 inches W x 18 inches L
Est. Box Size: (Height x Width x Length)
•86.5cm H x 64.5cm W x 49cm L
Est. Product Weight : TBA kg (estimate)
Est. Shipping Weight : 28 kg (estimate)
Deposit : 4200HKD
Free shipping for HK customers