XM 1/4 The Four Horsemen – Death (Pre-Order) Before 15th May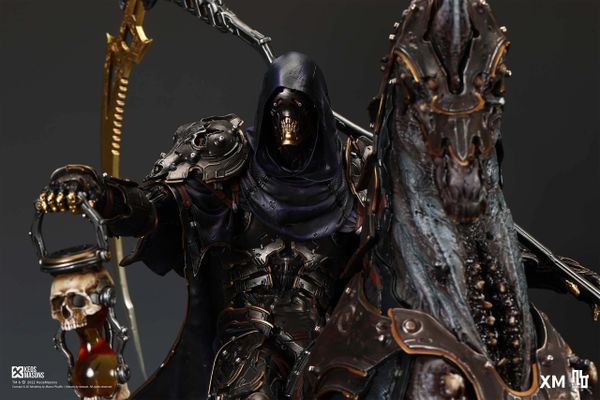 XM 1/4 The Four Horsemen – Death (Pre-Order) Before 15th May
Presenting Death, XM's fourth ¼ scale statue from the Four Horsemen line, a unique collaboration with renowned 3D concept design and character modelling company, Keos Masons. Based on characters set in the Neo-Apocalypse world, each statue is presented in a bold, dynamic, and story-laden style.
The Four Horsemen serve as effigies of destruction and vengeance— symbols of an uprising that continue to scour the earth. Riding upon its hellish steed, Death paints a striking picture of despair to those among humankind unfortunate enough to lay their eyes upon this vengeful android. The sage and thinker among the four, Death wishes for nothing more than the very extinction of humankind, deeming them most unworthy to exist— a rallying cry with which he unifies the androids. For Death, no weapon can be more fitting than the scythe it carries, a tool used to inspire and drive the android forces to reap human lives, setting the skies ablaze and pulverizing the very ground they walk on.
Amidst the riotous chaos, a cloaked figure rides into the night, exacting violent justice by deciding what lives, and what does not, in an uprising that would change the very course of history forever.
Collectors can choose between 2 heads and 2 right-arm switch-out combinations.
The first head sculpt features Death with a golden skull and an open jaw displaying a fierce snarl of rage towards enemies. The second one features Death with a black mask, revealing a pair of vicious red eyes filled with revenge-filled anger.
The first right-arm switch-out features an outward grasping hand while the second one features a hand holding on to a skull-encased hourglass, a vivid representation of the end of humankind's time as we know it, with Death itself serving as the guide in plunging them into the untold depths of darkness.
Each statue is individually hand-painted and comes complete with XM's famous quality finish.
Character Background
"And so came the last, swiftly levitating as a shadowy blur upon its hellish steed. All standing before it fell and coiled into a panic fit of fear and sorrow.
Finally, this one spoke. Death was come, it was here to erase us in the name of the Gods we thought we could be."
Read more at www.neo-apocalypse.com
#XMStudios #NeoApocalypse #TheFourHorsemen #Death
This Premium Collectibles statue features:
·        Two (2) head sculpts – 1 head sculpt features Death in a golden skull with fiercely open jaw showing a snarl of rage, and 1 head sculpt features Death with a black mask revealing vicious red eyes
·        Two (2) right-arm – 1 grasping hand, 1 hand holding a skull-encased hourglass, representing that humankind's time has come
·        Crafted in Polystone
·        Each painstakingly handcrafted statue is individually hand-painted with the highest possible quality finish
Artists:
·        Marco Plouffe (2D and 3D)
·        XM Studios Design and Development Team
Manufactured by:
XM Studios
Note: Prototype shown and pending final approval, final product may differ. Batteries will not be included for products with light up features due to customs.
Product and Box Dimensions
​
Product Size: 45*51*84cm
Est. Box Size: 21kg
Est. Product Weight: 75*75*45cm
Est. Shipping Weight: 24kg
Deposit: 3000 HKD
Free shipping for HK customers
HK$11,600.00
HK$10,400.00