1/4 Oriental Heroes (新著龍虎門) - 天下無敵 <HKD> Limited to 388pic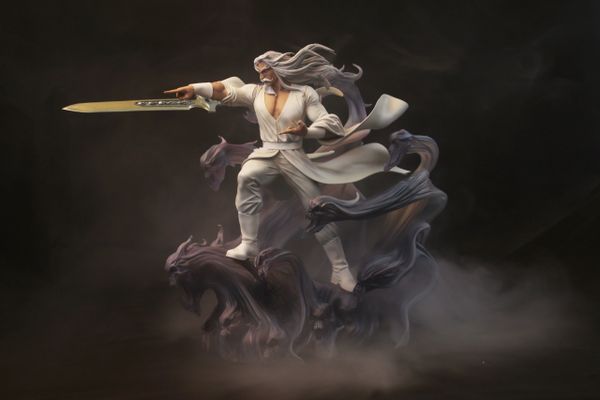 1/4 Oriental Heroes (新著龍虎門) - 天下無敵 <HKD> Limited to 388pic
BACKGROUND:
香港著名漫畫家黃玉郎所著漫畫《新著龍虎門》中的經典角色。在龍虎門中,天下無敵堪稱是當世最強武者。這位傳奇人物,無論在性格或思想上都超越了凡人的領域。他擁有鬼神般的力量,嗜殺如命卻無比癡情,专一。
面對無數高手,甚至以一敵百都能將敵人打敗。一生所望只為了拯救已死的戀人而不斷追求飛升成仙。因飛仙之謎與連氏一族結下不解之緣,造就了火雲邪神(連勇)成為其無敵地位接班人。行事只隨個人喜好,多次周旋於列強之間,左右大局。目前下落不名。 。 。 。
姓名:不祥
內功:九死邪功,穹蒼寶鑑
武功:御劍飛行,萬毒心經
武器:震乾坤,神兵
主要敵人: 沒有,只有天意和命運能與之匹敵
The Ultimate Swordsman is the definitive anti-hero character from Hong Kong legendary comics artist Tony Wong's comic book series "The New Dragon Tiger Gate". In Dragon Tiger Gate world, the Ultimate Swordsman is an invincible martial arts supreme master. Having mastered numerous invincible skills, his abilities and mental state has transcended beyond mortal realms. Although he has god-like powers and abilities, he is neither a heroic nor evil being. When he goes into a state of blood lust, he has been known to massacre all who stands in his way, including innocents. Even against numerous Kung Fu masters, regardless good or evil, or hundreds of opponents attacking him at the same time, The Ultimate Swordsman remains undefeated to this day.
Despite all his powers, status, and unfathomable behaviour, he is an extremely loyal lover. His whole purpose in life is tragically centered around finding ways to resurrect his deceased lover, resulting in his pursuit of immortality to ensure he achieves his goal. The Ultimate Swordsman vanished mysterious after an epic battle and his current whereabouts is unknown…

THE ULTIMATE SWORDSMAN PREMIUM COLLECTIBLES STATUE FEATURES:
Approximately 60 cm tall
Two (2) interchangeable portraits
Two (2) swords
Two (2) sets of left and right hands for alternate pose display
Crafted from cold-cast porcelain
Limited edition : 388
ARTISTS:
Design and Concept by XM Studios
Fausto Gutierrez Lopez (Sculpt)
Art Print by Studio Hive
XM Studios Design and Development Team

MANUFACTURED BY:
XM Studios
Product size : 60cm H X 41cm L X 56cm B (Estimate)
Est. Box Size : 70cm H X 51cm L X 66cm B (Estimate)
Est. Product Weight : 14kg
Est. shipping weight : 22kg
NOTE: Prototype shown and pending final approval, final product may differ slightly
Customer can choose to pay 1500HK to reserve the item first.

Customer have the right to cancel the order and take back the 1500HKD Deposit within 7 days after XM official official announce the Details (In case customer found out that he don't like it)

Shipping is 200HKD within HK and to Macau port. AS for other countries, we will calculate the shipping cost for u once we know the final weight.