Premium Collectibles : The Darkness Statue ¼ scale (Comics Version) - Sold Out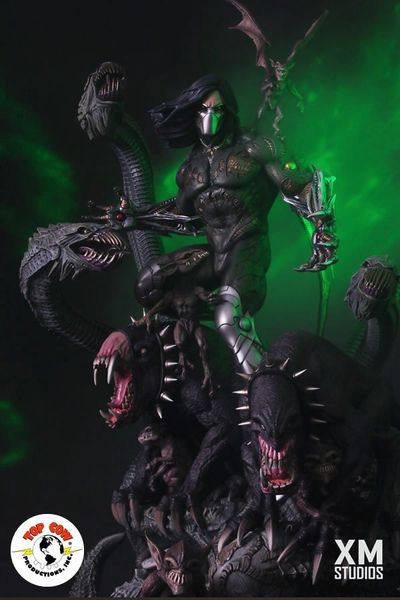 Premium Collectibles : The Darkness Statue ¼ scale (Comics Version) - Sold Out
Premium Collectibles : The Darkness Statue ¼ scale (Comics Version)
XM Studios is excited to present our next Top Cow Universe Premium Collectibles series statue, The Darkness! The hosts of the Darkness, Jackie Estacado is given the XM Studios treatment via incredibly detailed 1:4 scale cold-cast porcelain. Each painstakingly handcrafted art piece stands at approximately 73 cm tall and every piece individually hand-painted with the highest possible quality finish. With the ability to create and control anything he desires with the Darkness, this amazing and monstrously large statue features various Darklings and fanged tentacles which can eviscerate his opponents – brutal! Switch off the lights in your display room, we dare you!
License : Top Cow Comics
Scale : 1/4
Manufacture : XM Studios
Product size : 73 cm H X 35cm L X 45cm B
Est. Box Size : 83cm H X 45cm L X 55cm B
Est. Product Weight : 19kg
Est. shipping weight : 27kg
The Darkness Premium Collectibles statue features:
•

Approximately 73 cm tall
•

Crafted from cold-cast porcelain
•

Art print by Studio Hive
•

Limited edition : 999
Artists:
•

Studio HIVE

(Illustrator ,Design and Concept Collaboration with XM Studios)
•

Fausto Gutierrez (Sculpt)
•

XM Studios Design and Development Team
Manufactured by: XM Studios
Note: Prototype shown and pending final approval, final product may differ slightly
Background :
The Darkness is an ageless power dating to before human history. The Darkness is one of the two primal forces of the universe, the other being its equal and opposite the Angelus. The Darkness and the Angelus have been at war since the Creation, before which the Darkness was the original void of primordial chaos. To avert mutual destruction, the Darkness and the Angelus forged a truce through consummation, becoming the parents of the Witchblade. After the creation of the Witchblade, the Darkness has taken a male human host. Usually passed from father to son, leaving the previous host and taking his life as the child is conceived. The Darkness's powers remain dormant within the host until they awaken on the host's 21st birthday.
Deposit: 3000HKD