Beastly Beauties - SIREN STATUE BUST (Sold Out)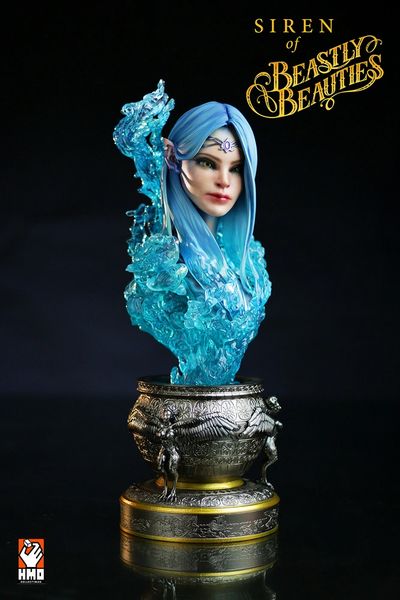 Beastly Beauties - SIREN STATUE BUST (Sold Out)
HMO's Siren Bust depicts a legendary mythical creature from Greek Mythology, they lived in Sirenum Scopuli Island. there's various opinion about where siren lived among many other traditions. They lured nearby sailors with their enchanting music and voices to shipwreck on the rocky coast of their island. Roman poets placed them on an island called Sirenum scapula. In some later, rationalized traditions, the literal geography of the "flowery" island of Anthemoessa, or Anthemusa, is fixed: sometimes on Cape Pelorum and at others in the islands known as the Sirenuse, near Paestum, or in Capreae. All such locations were surrounded by cliffs and rocks.
HMO Collectibles presents, the amazing new addition to the Premium Beastly Beauties line.. Discover the fatal attraction of the Siren in this brand new 1:2 scale bust. Painstakingly designed by a world class team to reach new levels of artistry, Siren deserves a very special place at the heart of your collection.
Based on ancient greek mythology, the Siren lures sailors to certain death with an irresistible song in the seas. Aqua and teal tones bring this devastating beauty to new heights of production. Clear resin and subtle details in the bust's execution will set the true collector's heart thumping. You may choose to gaze upon Siren's enchanting or be lost in the intricate base for hours.
Now with a very limited edition size of 299 pcs worldwide, Siren is slated for a sellout among rare-statue collectors with HMO's industry renowned standards of production. There will be none other like her..
PRODUCT DETAILS:
License:
HMO Original Series
Scale:
1/2 Scale Poly-Resin Bust
Edition Size:
299
Manufacturer:
Hand Made Object Limited
Product Height:
410mm
Product Shipping Size:
TBD
Product Shipping Weight:
TBD
Feature Material:
Crafted from cold-cast porcelain
Hand Crafted to Perfection
ARTISTS:
Sculpt:
Mufizal Mokhtar
Concept:
Kobe Sek
Paint:
James Tce
Art Direction:
HMO Design and Development Team