XM 1/4 Black Cat <Price in HKD>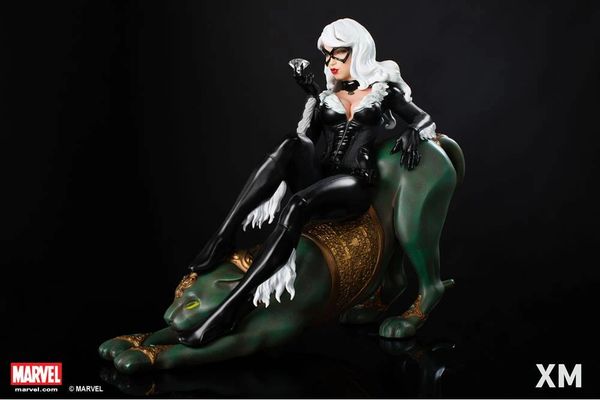 XM 1/4 Black Cat <Price in HKD>
"I THINK YOU'LL FIND MY OFFER VERY DIFFICULT TO REFUSE."
XM Studios is excited to present our next Marvel Premium Collectibles series statue, Black Cat! The sexy feline master thief is immortalized in amazingly detailed 1:4 scale cold-cast porcelain. Each painstakingly handcrafted statue is individually hand-painted with the highest possible quality finish. A former lover of Spider-man, Felicia Hardy is a fun loving and attractive cat burglar who loves to tease. She is designed lazing on an exquisite green marble feline statue adorned with sparkling jewels and gems - a cat on a cat! Perfect companion piece to our Spider-man statue!
Background:
Black Cat is a former girlfriend of Spider-Man and a reformed burglar who continues to walk on the wild side as a detective and adventurer. The first night Felicia Hardy took on the persona of the Black Cat she tried to break her father, Walter Hardy, a notorious cat burglar out of prison before he died. In the process, she met Spider-Man. After her father's death, she set out to become New York's premier cat burglar. However, over time, flirtations led to romance with Spider-Man, as Felicia promised to abandon her criminal activities. Spider-Man and the Black Cat often patrolled the city together, with Felicia in love with Spider-Man, the hero. She was reluctant to see Spider-Man unmasked, for fear the excitement of the mysterious romance would be lost. While Spider-Man was away during the Secret Wars, Felicia made a deal with the Kingpin to gain superpowers - an actual bad luck aura.

The Black Cat Premium Collectibles statue features:
Two (2) interchangeable heads for alternate display

Two (2) interchangeable right arms for alternate display

Crafted from cold-cast porcelain

Limited edition : 500

Art print by Soefara Jafney
Artists:
Soefara Jafney (Illustrator, Design and Concept Collaboration with XM Studios)

Hernán Azcárate (Sculpt)

XM Studios Design and Development Team

Manufactured by:
XM Studios
Note: Prototype shown and pending final approval, final product may differ
Product size : 43 cm H X 14.5 cm L X 34 cm B
Est. Box Size : 53 cm H X 24.5 cm L X 44 cm B
Est. Product Weight : 5.5 kg
Est. shipping weight : 15.5 kg