PREMIUM COLLECTIBLES : VULTURE STATUE ¼ SCALE (COMICS VERSION) (Price in HKD)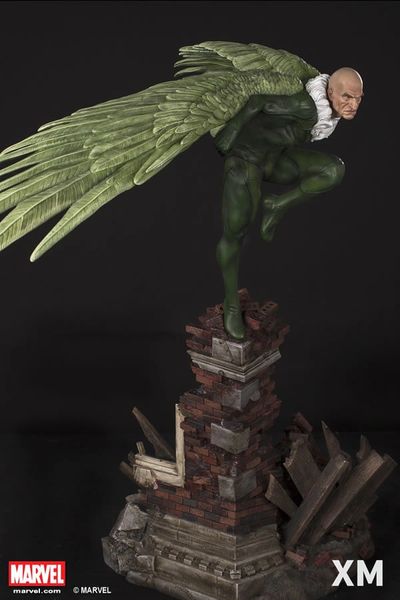 PREMIUM COLLECTIBLES : VULTURE STATUE ¼ SCALE (COMICS VERSION) (Price in HKD)
"I fought Daredevil. I was in the Sinister Six. I'm faster, stronger, and smarter than a hundred men my age. No flunky with a pistol gets the drop on me." - Vulture
XM Studios is excited to present our next Marvel Premium Collectibles series statue, Vulture! The former electronics engineer turned flying super villain is immortalized in amazingly detailed 1:4 scale cold-cast porcelain. Each painstakingly handcrafted statue stands at approximately 70.5 cm tall and every piece individually hand-painted with the highest possible quality finish. Designed to be displayed on high or low ground, the Vulture is poised to strike swiftly and deadly as a member of the Sinister Six! Complete your Sinister Six line up with Vulture! This is quite possibly the most dynamic ¼ scale Vulture you'll ever see!
License : Marvel
Scale : 1/4
Manufacture : XM Studios
Product size : 70.5 cm H X 62 cm L X 53.5 cm B
Est. Box Size : 80 cm H X 72cm L X 64 cm B
Est. Product Weight : 14kg
Est. shipping weight : 24kg
The Vulture Premium Collectibles statue features:
Approximately 70.5 cm tall

Two (2) interchangeable heads for alternate display
· Crafted from cold-cast porcelain
· Limited edition : 500
Artists:
Studio HIVE

(Illustrator, Design and Concept Collaboration with XM Studios)

Jim Maddox (Sculpt)

XM Studios Design and Development Team
Manufactured by: XM Studios
Note: Prototype shown and pending final approval, final product may differ slightly
Background :
Adrian Toomes is a former electronics engineer who employs a special harness of his own design that allows him to fly and endows him with enhanced strength. Attracted by the easy rewards and thrill of thievery, the Vulture subsequently embarked on a career as a costumed criminal. Toomes is quite old, though spry, and is a virtually remorseless killer. On more than one occasion the Vulture has been in league with several other Spider-Man villains in order to destroy the wall crawler. The Vulture has been in every incarnation of the Sinister Six.
Deposit: 1800HKD.